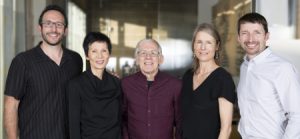 Seattle and San Francisco-based Mithun and Hodgetts + Fung of Los Angeles have merged to increase their capacity for urban mixed-use, higher education, civic, cultural, and corporate project commissions.
Craig Hodgetts, FAIA, and Hsinming 'Ming' Fung, FAIA, are now partners at Mithun, bringing their full team of architectural design staff in the merger. The existing Hodgetts + Fung office in a renovated warehouse in Culver City, California, will be called Mithun | Hodgetts + Fung.
"Both our practices take a deeper look into architecture and ask, how does this project benefit the community as a whole?" said Dave Goldberg, president at Mithun. "Cities today are in great need of this kind of holistic thinking, and we are excited to bring this approach to groundbreaking projects with our expanded team."
Projects under Hodgett's role as creative director include design of the reimagined Hollywood Bowl, the University of California, Los Angeles (UCLA) Gateway and Masterplan, the Yamano Gakuen Tower in Tokyo, the recently completed Robert Frost Auditorium, and museum installations for the Los Angeles County Museum of Art, Museum of Contemporary Art, and the Library of Congress.
Projects under Fung's leadership as design partner include, the Menlo-Atherton Performing Arts Center in Silicon Valley, a new performing arts center at California Institute of the Arts (CalArts) in Valencia, the Chapel of the North American Martyrs in Sacramento, the award-winning temporary Towell Library at (UCLA), and the 20-ha (50-acre) masterplan for the Los Angeles Arts Park.