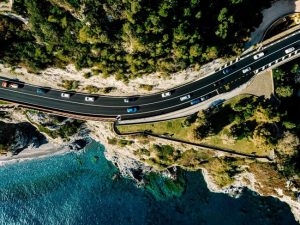 The American Society of Civil Engineers (ASCE) has released its 2021 Report Card for America's Infrastructure. The report, published once every four years, gave the United States a C- overall grade, up from a D+ in 2017, marking the first time in two decades the country has received a grade in the C range. However, according to the ASCE, the overall grade still means the nation's infrastructure is "in mediocre condition, has deficiencies, and needs attention."
The organization also found the long-term infrastructure investment gap continues to grow. The gap has risen from $2.1 trillion over 10 years in the last report to $2.59 trillion in the latest study, meaning a funding gap of $259 billion per year. The biggest projected gap is in surface transportation, which faces $1.2 trillion in projected unmet needs over 10 years.
U.S. Transportation Secretary Pete Buttigieg said the report card "tell us something we already know—that we have a long way to go…"
"We have not made significant enough investments to maintain infrastructure that in some cases was built more than 50 years ago," said Thomas Smith, ASCE executive director. "As this study shows, we risk significant economic losses and higher costs to consumers, businesses, and manufacturers—and our quality of life—if we do not act urgently."
"This is not a report card anyone would be proud to take home," he added.
The study evaluated 17 categories of infrastructure, with grades ranging from a B for rail to a D- for transit. Eleven of the categories in the report card received a grade in the D range: aviation, dams, hazardous waste, inland waterways, levees, public parks, roads, schools, stormwater, transit, and wastewater, with transit receiving the lowest grade in the report. The report did have some good news, noting due to increased investment, the grades for aviation, drinking water, energy, inland waterways, and ports have improved since the last assessment.
ASCE's last comprehensive assessment of California's infrastructure was conducted two years ago. At that time, ASCE awarded the state's infrastructure systems a C- grade, marking a drop from the C grade previously earned in 2012. The 2019 grades, which designated California's infrastructure as "requiring attention," varied between C+ for aviation, ports, and wastewater and D for roads, inland waterways, and levees. None of California's infrastructure categories earned an A or a B grade.
ASCE called on Congress and the administration to take "big and bold action" on infrastructure quickly and highlighted the role infrastructure investment could play in speeding the nation's economic recovery.
"America's infrastructure bill is overdue, and we have been ignoring it for years. The COVID-19 pandemic only exacerbates the funding challenge because state and local governments have had to prioritize public health over everything else for the past year," said ASCE president Jean-Louis Briaud, Ph.D. "If we take action now, we can generate job growth and build infrastructure that is more reliable, more secure, and more resilient while increasing the quality of life for everyone."
Click here to view the full 2021 report and additional data.