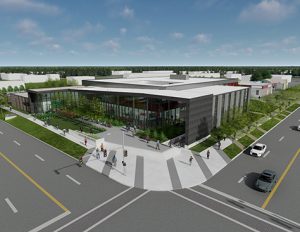 SmithGroup will soon finalize the design for the new Health and Wellness Center at the University of Houston-Victoria (UHV).
The new center will be 3252 m2 (35,000 sf) and include a walk-in-clinic. It will have a variety of facilities for UHV students, faculty, staff, and alumni, as well as Victoria College students.
The first floor will feature locker rooms, a lobby, two group fitness spaces, two sport courts, and a strength training and free weights area. The second floor will include a cardio fitness area, a 0.2 km (0.125 mi.) indoor track and a group fitness area. There also will be a large outdoor fitness and recreation area.
Staff members will have experience in diagnosing and treating minor illnesses and emergencies, such as the common cold, flu, allergy symptoms, sprains, and strains in a fast, effective, and compassionate manner.
SmithGroup expects to complete the design by May. UHV plans to begin construction this fall and finish by spring 2024.