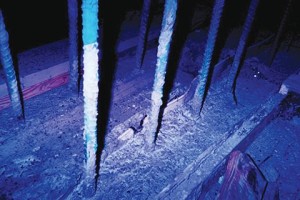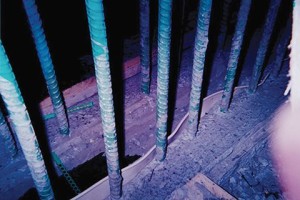 Waterstops made with thermoplastics are also extruded into other profiles: split-leg, labyrinth, base-seal, and retrofit.
Split-leg
The split-leg profile eliminates having to split the formwork for the waterstop installation, but quality splicing is difficult at intersections and plane transitions. Split-leg allows the 'split' side to be placed flat against the formwork for the first concrete pour. After the first pour has cured and the formwork removed, the two halves of the split-leg are glued together and then encapsulated in the second pour.
The split-leg profile should not be used where shape of the forms or location of the reinforcing steel prohibits opening of the split flange. The split cannot open properly and be placed against formwork in a plane transition or fitting configuration. For these reasons, such profiles are not generally used for containment of chemicals.
Labyrinth
Labyrinth-profile waterstops are used primarily in vertical construction joints where little or no movement is expected. Like the split-leg, they can be installed without split forming. With labyrinth, quality splicing is extremely difficult at intersections and changes of direction due to their complex profile shape. For these reasons, labyrinth profiles are also not generally used for containment of chemicals.
Base-seal
Base-seal waterstops have a large flat profile with ribs only on one side. They are used at joints of slab-on-grade and for property line shoring walls where the waterstop is placed to be positioned on the exterior surface of the concrete, rather than embedded within. This design is easy to form and ensures accurate functional placement.
Retrofit
There are also special extrusion shapes designed to provide a fluid-tight seal between existing and new construction. These retrofit waterstops are installed without the labor-intensive and structurally destructive saw-cut-and grouting of the existing concrete to embed half the waterstop. Further, retrofit-profile waterstops can be employed to isolate structural elements such as pilasters, columns, and tank pads. Retrofit profiles are available for both construction and expansion joints.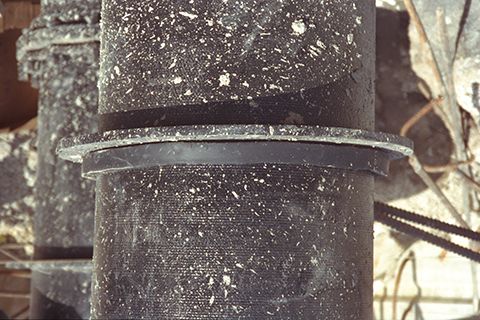 Hydrophilic waterstops
Unlike PVC dumbbell waterstops that function by passively blocking water migration, hydrophilic strip waterstops react with water and swell to from 
a positive watertight seal in the concrete joint. Commercially available for several decades, hydrophilic waterstops have a long, proven track record. A hydrophilic waterstop is effective in providing protection against water infiltration through concrete construction joints, including joints under high hydrostatic pressure and intermittent hydrostatic conditions.
Hydrophilic waterstops are produced in rolls or strips. The profile is usually a small rectangle with 20 x 25 mm (¾ x 1 in.) and 20 x 10 mm (3/4 x 3/8 in.) being the two prominent sizes. Hydrophilic strip systems, both bentonite and rubber, are used mainly in construction joints—most are not intended for use in expansion joints. These systems are simple to install, and do not have to be secured in place before the first concrete pour; further, sections do not need to be heat-welded together. The material is adhered directly to the cured surface of the first concrete pour in preparation for the second concrete pour to form the joint.
The strips are adhered to cured concrete using an adhesive or primer. This adhesion is important so the waterstop is not displaced during the concrete pour. Alternately, a covering strip of steel mesh fitted over the strip can be nailed 300 mm (12 in.) on-center (o.c.) to secure the waterstop.
Hydrophilic-strip waterstops should not be installed with only mechanical fasteners (i.e. nails only without steel mesh covering) placed along the product length. When installed only with fasteners, a thin layer of concrete paste can extrude under the waterstop during vibrating and can cause it to lose most of, if not all, its effectiveness. Even worse, concrete placement can tear the waterstop off the fasteners and cause this portion to be displaced into the concrete, out of the plane of the joint. Therefore, one must always specify and install these strip waterstops adhered in place or with the steel mesh cover system.