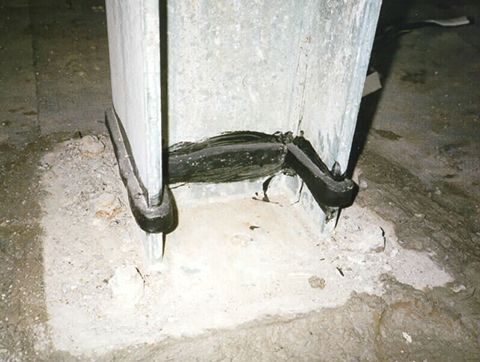 Non-expanding mastic strip waterstops
Mastic-strip waterstops are not susceptible to prehydration expansion like bentonite or hydrophilic rubber materials, but their reliance on adhesion to the concrete might prevent complete sealing of the joint if some areas are not bonded or joined together properly.
Like hydrophilic waterstops, most non-expanding mastic waterstops are produced in rolls or strips. The profile is usually a small rectangle shape, with
20 x 25 mm (¾ x 1 in.) being the most common for butyl-rubber compounds and dimensions of 
38 x 12 mm (1 ½ x ½ in.) for asphaltic-based strips.
Mastic waterstops are typically a strip of tacky, asphaltic, or butyl rubber based compound. They are designed to stick to a primed surface of a cured concrete cold joint. The strip is adhered at a minimum embedment depth in accordance with the manufacturer's guidelines and then a second concrete pour is cast that encapsulates the remaining three sides. The heat from the hydrating concrete causes the product to become even tackier, thereby sealing the joint by acting as an internal, adhered sealant.
Adhesion is important. Should the waterstop be displaced during the concrete pour, it can easily lose most, if not all, its water barrier performance. Mastic waterstops are designed for construction joints only—they should not be specified for use in expansion joints.
Mastic waterstop hydrostatic resistance performance is very limited as the only barrier to migrating fluids is the adhesion to the concrete of the low profile strip. Mastic waterstops are the lowest-performing of any commercially available waterstop and are priced accordingly, being the lowest in cost.
Injection-hose waterstops
Injection-hose waterstops are usually permeable or perforated hose installed during new construction with a series of injection ports and valves. These ports are placed exposed at the interior surface of the concrete for later access. Should a leak occur after construction, a grout pump can be used to inject a resin (usually polyurethane) to seal the joint and fill any adjacent voids in the concrete.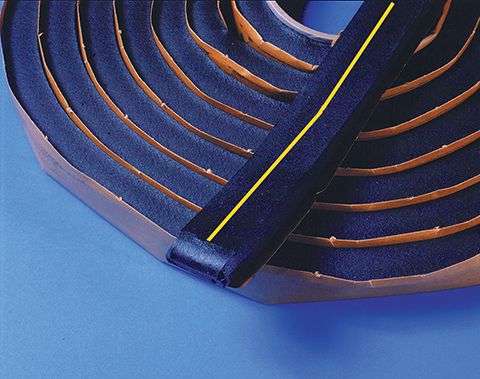 Manufacturers purport some products to be 're-injectable,' but this is frequently not the case, due to cured resin surrounding the hose or contractors not adhering to the manufacturer's guidelines (i.e. chiefly not cleaning out the hoses properly after the initial resin injection).
Each injection hose system uses permeable hose that is installed at construction joints, in short lengths (typically less than 9 m [30 ft]). The hose core is surrounded by a woven mesh outer layer so resin injected under pressure can pass out of the tube into the joint, but cement fines and aggregates cannot enter the hose and clog it. The hose is secured to the first concrete pour after it sets with clamps mechanically fastened (typically 305 mm [12 in.] on center).
Adjacent perforated hoses are placed overlapped by 150 to 300 mm (6 to 12 in.) at each segment end, with a short non-perforated tube attached in-line that exits the concrete as the injection port. After the structure is built, polyurethane resin is injected into the hose to seal the joint and fill any cracks or voids in the joint area. They can also be used to seal construction joints between new and existing structures. Typical applications include secondary containment, basements, and tunnels.
Metallic waterstops
Metallic waterstops can obstruct the passage of corrosive fluids, even at severely elevated temperatures. Therefore, metallic waterstops are used primarily for severe chemical and high-temperature environments that can degrade other materials. A variety of metals, grades, and gauges are available.
Stainless steel offers broad-spectrum corrosion resistance, and is virtually unaffected by the effects of ozone, making it an ideal choice for ozone contactor structures used in modern water treatment plants. Stainless steel waterstops are available in many standard shapes and sizes, including profiles for new and retrofit. All change-of-direction fabrications should be pre-manufactured, leaving only straight butt-welding in the field.
Metallic waterstops are probably the most difficult to install, as split-forming is always necessary by means of tungsten-inert-gas (TIG) or metal-inert-gas (MIG) welding. All straight-run material should be welded edge-to-edge (no overlapping).
The stiffness of metal waterstops can lead to cracking of adjacent concrete. Thereby, rigid metal waterstops should be installed with adequate concrete coverage.