Multiple system installation
Waterstop systems are relatively low 
in cost, so having a secondary product installed can be a wise and inexpensive investment. This leads to the question, 'If the concrete joint has the appropriate width clearance, why not use one waterstop as the primary barrier and another as a secondary barrier as an insurance policy?' If the primary system fails in any way due to material or installation defect, the second system is there to ensure fluid-tight integrity at the concrete joint.
To clarify, when a ribbed center-bulb or hydrophilic waterstop is properly installed, there is really no need for a secondary waterstop system. Regardless of polymer or manufacturer, these waterstop products really only leak from poor installation procedures and a lack of quality assurance.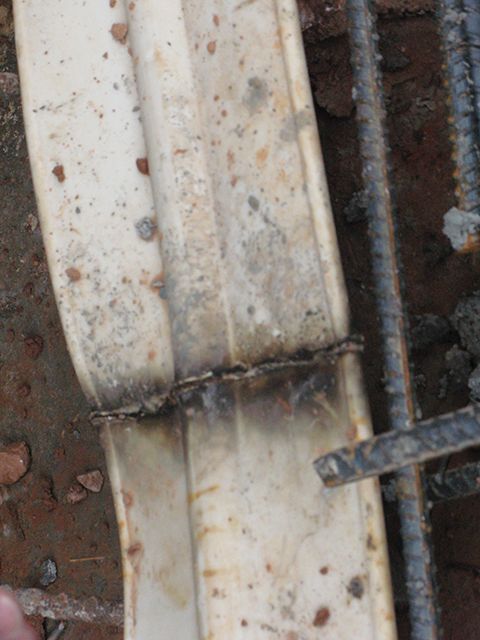 A typical belt-and-suspenders approach would be to have a ribbed center-bulb waterstop on the positive-pressure side of the joint and a hydrophilic or mastic strip-applied waterstop several inches away from it on the negative pressure side of the joint. An alternative secondary waterstop would be an injection tube system placed on the low pressure side.
The benefits of redundancy in installed waterstop systems is great and the cost is low, especially when amortized over an extended life of the concrete structure in which they are installed.
On projects, hydrophilic waterstops can also be used around pipe and mechanical penetrations, while PVC hydrophobic waterstops can be specified for the concrete construction joints.
This author has seen critical infrastructure subway projects with three waterstop systems specified and installed in the construction joints of the thick concrete walls. The installation included a PVC ribbed center bulb to the positive pressure side, a bentonite hydrophilic strip in the center, and an injectable hose waterstop installed closest to the interior face of the concrete wall.
Conclusion
Contractors have perhaps the most important role with regards to waterstops—the installation. These systems should be treated as strategic building envelope barrier material for the long-term success of a project. For any waterstop to be effective, proper design, installation, and concreting practices must be followed. Foremost, one must select a product size and profile suitable for the expected joint movement, hydrostatic head, and chemical resistance required.
Stacy Byrd, GRP, LEED AP, is the national products manager at CETCO, a manufacturer of waterproofing, green roof systems, composite drainage, and waterstops. He has a quarter-century of technical waterproofing design application and practical field experience with below-grade foundations, plaza-decks, tunnels, and vegetated roofs on commercial, institutional, civic, and government projects. Byrd is an active member with ASTM International Committee D08 on Roofing and Waterproofing and a Green Roof Professional (GRP). He can be reached at stacy.byrd@cetco.com.