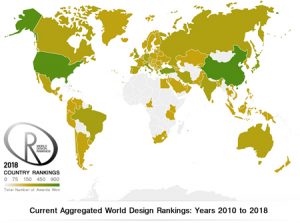 Last month, World Design Rankings (WDR) announced its updated listing of countries categorized based on the number of design awards won at international juried design competitions and awards. The United States took first place among 100 represented countries in 2018 with 48 platinum design awards won globally.
It is followed by China, Japan, Italy, Great Britain, Hong Kong, Turkey, Taiwan, Portugal, and Australia.
WDR aims to provide additional data and insights to economists and journalists regarding the state of the design industry. The ultimate goal is to contribute to global design culture through promoting good design. The rankings are intended to provide a snapshot of the design potential of countries worldwide by highlighting their creative strengths, design weaknesses, and available opportunities.
Three new countries were included in the 2018 rankings: Botswana, Bahrain, and Costa Rica.