by Bruce Davis, AIA, LEED AP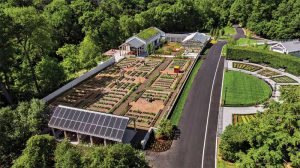 To meet the growing interest in urban vegetable gardening and raise awareness of healthy eating and food self-sufficiency, several organizations are constructing buildings and sites devoted to the 'edible education' trend. From greenhouses built atop schools and local efforts, such as the Baltimore Urban Gardening with Students (BUGS), to curriculum developers such as the Edible Schoolyard Project led by farm-to-table chef and activist Alice Waters, varied groups are forging ahead with new programs. To support the new concepts, emerging architecture and landscape designs are underway around the country.
One of the most closely watched projects of this kind has been the New York Botanical Garden's (NYBG's) Edible Academy, a new and expanded campus designed by Cooper Robertson (this author's firm) for the institution's Children's Gardening Program. The new facilities making up the Edible Academy support significantly expanded programs for children as well as teachers, families, and other adults. The resulting teaching center focuses on the fundamental relationships between plants, gardening, sustainability, cooking, nutrition, and health.
The development of this new academic complex, including a collection of indoor-outdoor gabled structures connected by expansive teaching and display gardens, offers several lessons in creating sustainable nutrition education centers as well as techniques to help support the awareness and accessibility of urban farming. These findings and model practices for designs supporting them are of much interest today and range from siting and accessibility needs to recommended materials specifications and applicable systems such as photovoltaics (PVs), green roofs, and geothermal heat pump systems.
Key project drivers
One overarching goal of the Edible Academy's design has been to reveal the features in the natural landscape that are not readily visible. The project, sited to highlight its magnificent setting, opens up views down a steep wooded gorge to the Bronx River and its waterfall, and to one of New York City's largest uncut expanses of old growth forest. The natural topography of the site also provided opportunities to create a 350-seat outdoor amphitheater, and to highlight natural rock outcrops.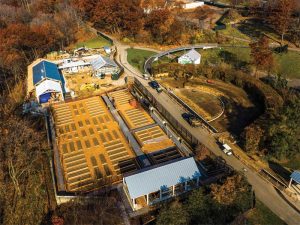 Such natural conditions also present obstacles for siting buildings and developing suitable urban landscapes for educational and gardening uses. To build on the edge of the steep slope and around large amounts of rock located close to the surface of the site, the project team elected to utilize the existing foundations of a former storage structure for the Edible Academy's new classroom building. This avoided excavation in areas with difficult access.
Water systems and site stormwater detention and drainage are fundamental considerations for urban farming projects. Proper grading, infrastructure, and accommodations for wastewater discharge, as needed, must be considered in the site and landscape design.
Although located in the highly urbanized borough of The Bronx, the area of NYBG encompassing the Edible Academy project site had no sewer system nearby and rocky soil, resulting in insufficient space for a septic discharge system. Due to these constraints, the project team applied for special approvals from New York City's buildings department to use a composting toilet system. The department was receptive to this sustainable approach and its important environmental benefits.
The composting toilet system uses modern aeration and filtration technology to transform organic waste into clean compost, reducing its volume by more than 90 percent. The composting toilets, in addition to low-flow faucets utilized in the new facilities, reduce water consumption while also protecting watersheds. Additionally, leaching galleries are employed to collect wastewater from sinks and direct it into the ground, providing sustainable solutions to overcome significant site constraints.
Along with the challenges of the site, there were also advantages. For example, the subsurface rock presented optimal conditions for installing a geothermal system, which was selected as the main source of heating and cooling in this project. The system was designed with mechanical, engineering, and plumbing (MEP) engineers Kohler Ronan.
To the engineer's and architect's specifications, construction crews led by EW Howell drilled eight new wells reaching as deep as 142 m (465 ft) below the surface. The benefits of the geothermal heat pump system are significant. The application of heating and cooling effectively harnesses the temperature differential between the surface and the deep well borings, delivering an economical and sustainable heat source in winter and serving as a heat exchanger in summer.
Other challenges include creating child-friendly learning facilities—both indoors and outdoors—accessible to users of all abilities, including surfaces appropriate for wheelchair movement. Building materials and finishes for garden structures were selected to be appropriate to their use and long-lasting, complementing the site and context. Inspired by the agricultural vernacular of barns and sheds, the Edible Academy responds to its natural setting with simple gabled roofs, glue-laminated (glulam) wood structures, and extensive fenestration to allow views to the gardens and surrounding landscape. These share a design sensibility with NYBG's Leon Levy Visitor Center, and the outdoor pavilion in its 1.4-ha (3.5-acre) Native Plant Garden, completed in 2013.
Accessibility
Engineered wood fiber (EWF) was specified to meet accessibility requirements and serve visitors of all abilities in the teaching gardens, while also allowing for permeable surfacing required for site drainage and stormwater management. This fiber is increasingly used for playgrounds and is similar in appearance to mulch or wood chips. EWF is often preferred over rubber mulch in many circumstances due to its improved safety and accessibility performance. EWF is also employed as a high-performance material for area borders, wear mats, drainage systems, geotextiles and, in some cases, blown-in insulation.