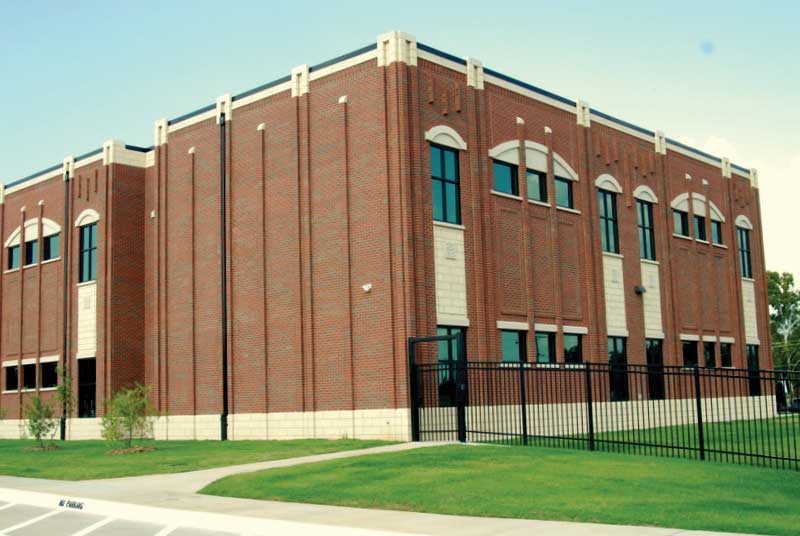 Innovations with IFAs
In Oncor's study, the Academy at Nola Dunn outperformed other buildings in low energy consumption rates. Multiple factors contribute to this, including the school's use of IFAs as part of the building envelope. To date, the Academy is the only ICF school in Texas to employ integrated framing at door and window openings.
IFAs solve a perennial issue in commercial ICF construction—namely, the labor-intensive process of blocking out door and window openings with wood or vinyl bucking systems only to return to each opening, make adjustments to ensure the opening is plumb and true, and install the door and window frames. This practice may be tolerable on 30-opening residential projects, but can be costly from time and human resource (HR) perspectives on a 300-opening commercial building like the Academy or a nearly 500-opening building like Joseph Warren Middle and High School in Bowling Green. (For more information on this project, which included 497 integrated framing assembly [IFA] door and window openings, see the article by J. Andrew Keith and Chris Keith, "Integrating IFAs and ICFs," in the July 2009 issue of Construction Canada. Visit www.kenilworth.com/publications/
cc/de/200907/index.html.)
Unlike wood and vinyl bucks, IFA steel framing systems receive the ICF block prior to the concrete pour and remain in place afterward, already being prepared to receive doors, windows, and hardware. In short, an IFA doubles as both a bucking system and a hollow metal frame. These systems can also coordinate with trades like masonry and drywall, contributing to a quicker and more efficient installation process overall. (For a general introduction to IFAs, see the article from 
the December 2008 Construction Specifier article, "Integrated Framing and ICF Construction," by J. Andrew Keith and Chris Keith.)
IFAs also differ from other bucking methods in their ability to be shipped from the factory in any design. For the Academy, architects at SHW Group (now part of Stantec) designed five 7.5-m (25-ft) arched daylight windows to be displayed prominently in the front of the building, which give it a classic aesthetic. Architects also strategically designed some of the larger, lower-positioned window IFAs to serve a dual function, calling for the bottom portion of the frame to double as a ledge for interior seating. In this way, these framing assemblies can be incorporated more directly into users' experience of a building.
Perhaps the most relevant contribution IFAs can make is to the overall strength and seal of the building envelope. Not only do these assemblies aid in wall alignment by holding the block in position before, during, and after the concrete pour, but they also enable a tighter seal between the concrete and the frame. Under alternative methods of bucking, door and window openings become a liability to energy efficiency, as the multi-stage process of first bucking the opening, then separately installing a door frame after the concrete is set creates a fit with inevitable air pockets permitting heat and cold transfer. (IFAs address the general issue of wall development lagging behind other aspects of ICF construction. This can be explained with a quotation from the Ware article in note 1: "Basically, the status quo thermally weak school wall design is a problem. Walls, in effect, have become the weakest link in the chain since they previously have not received much in the way of technological advancement.")
The door and window openings of IFAs are more thermally sealed, because the concrete pours around the framing system and then cures in that position without the IFA ever being removed. Thus, although conventional wisdom suggests the steel of the framing system would serve as a natural conductor of heat and cold, this method creates a more energy-efficient opening overall. It is also worth noting IFAs are available with a thermal break consisting of a strip of rigid polyvinyl chloride (PVC), which runs the course of the assembly and prevents heat and cold transfer between the interior and exterior of 
the building. This design increases IFAs' capacity to contribute to a building's energy efficiency.