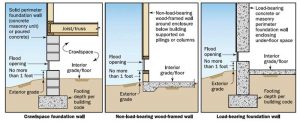 Use of these wall systems requires the addition of a flood opening to equalize the water pressure and hydrostatic forces created by standing or slow rising and falling water (Figure 4). The flood opening will work to equalize the pressure on each side of the wall and protect it from damage or collapse.
Masonry has an advantage over the wood-framed, nonloadbearing option illustrated in Figure 3 because of its ability to support the weight of the structure during the ebb and flow of hydrostatic loads. Further, masonry provides the additional advantages of fire and water resistance.
Breakaway walls
Breakaway walls are typically preferred when the hydrodynamic loads are more than 3 m (10 ft) per second or there is a risk of impact from waves or debris. These walls are often built to create enclosed storage areas below BFE or enclose the entire structure within the exterior pilings or columns, which is similar to creating a first-floor, secure parking structure for a high-rise building.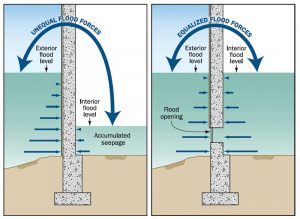 Breakaway walls are constructed with unreinforced masonry units and are expected to fail at the mortar joints between the masonry units, beginning near the stillwater elevation where the pressure on the wall is greatest (Figure 5). As a wave of water hits the breakaway wall with no less than 69 kPa (10 psi) and no more than 138 kPa (20 psi) of force, the wall will collapse and allow the water to flood the enclosed area without washing away the entire building.
Floodable ground-level interior space
In low floodplain areas, the intent may be to expect regular flooding and design usable space to tolerate it. The subsequent case study highlights this rising trend of moving living and working spaces, equipment, and other amenities up one or more floors in the building from ground level.
Again, masonry units can provide structural support, partitions, storage areas, entryways, and easy exterior excess to convert floodable space into functional areas. All interior masonry units must be designed to withstand hydrostatic pressure of rising waters. They can be easily cleaned after the floodwaters recede.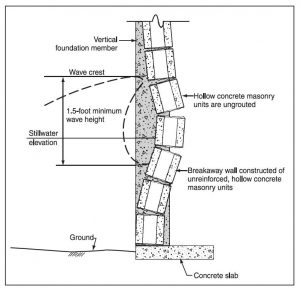 Case study
The Medical University of South Carolina (MUSC) Shawn Jenkins Children's Hospital and Pearl Tourville Women's Pavilion is the newest medical facility in Charleston, South Carolina. The $390-million, 57,971-m2 (624,000-sf) building is 11 stories tall, 20 percent larger than the facility it replaced. More than 200 care team members, MUSC leaders, administrators, and almost 30 family members collaborated with architecture firms Perkins + Will (New York) and McMillan Pazdan Smith (Charleston) to design this facility.
However, one of the most significant challenges in the design was the lower Charleston location. Barely 3 m (11 ft) above sea level, the site regularly experiences tidal flooding. A consistent parade of weather events, including hurricanes, has pummeled the city with major tidal surges. The city is surrounded by water on three sides, so buildings professionals incorporate flood-proofing into all new designs. Consequently, the entire first floor of this new facility is built to withstand flooding and constructed out of concrete masonry units. To protect the block walls from degradation during flooding, design professionals chose a latex-based cold fluid-applied waterproof coating for the first floor. The coating was chosen because it is known to withstand hydrostatic pressure, is semi-impermeable, cost-effective, easy to apply and procure, and could be tinted to their color scheme.
It is imperative specifiers not just account for the flood damage-resistance functionality of the masonry unit, but offer options to waterproof, weatherize, and beautify the material. The three elements—waterproof, weatherize, and beautify—have specific performance requirements and reference tests that must be included in the specification.