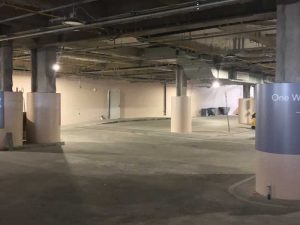 Waterproof
To resist the hydrostatic loads imposed on the masonry and assure water does not get into the block cavity, all exposed surfaces of the masonry unit need to be coated with a penetrating waterproofing coating. Traditional paints and/or block-fillers are not designed or tested to meet hydrostatic loads. Specific cold-fluid applied waterproofing products have been tested to ASTM D7088, Standard Practice for Resistance to Hydrostatic Pressure for Coatings Used in Below Grade Applications Applied to Masonry. As the masonry unit may be installed above-grade in wet flood-proofing applications, ASTM D7088 tests the psi hold back capabilities of the coating on the masonry unit, and is the best reference test in this case. Every foot of water exerts 3 kPa (0.43 psi) of pressure on the coating. Consequently, to protect a 3-m (10-ft) high block wall, the coating would have to resist a minimum of 30 kPa (4.3 psi). Obviously, the taller the wall of water the greater the psi hold back requirement.
Weatherize
While these masonry units are in place they will receive a daily bombardment of natural elements. In order to be prepared to function in their waterproofing role, they must be protected when they are 'off-duty.' Three specific environmental forces will work on the masonry unit while it stands guard, particularly in coastal areas—wind-driven rain, salt spray, and ultraviolet (UV) resistance.
ASTM D6904, Standard Practice for Resistance to Wind-driven Rain for Exterior Coatings Applied on Masonry, measures the resistance to wind-driven rain in miles per hour. Unfortunately for hurricane-prone areas, this is a "pass/fail" test that simulates the "equivalent dynamic pressure at [158 km/h] 98 mph wind velocity." This velocity is just over the wind speed of a Category 1 sustained wind on the Saffir-Simpson Hurricane Wind Scale. Specifiers need to consult their waterproof coating manufacturer in order to ascertain if they can provide a product recommendation with modified testing to simulate the higher wind-driven rain speeds that may be relevant to their project. It is important to remember the coating must resist wind speeds so it does not blow off, and be ready for potential flood waters. Removal of the coating would render the masonry unit susceptible to intrusion by wind-driven rain (or subsequent flood waters) into the cavity, making them "difficult or impossible to clean."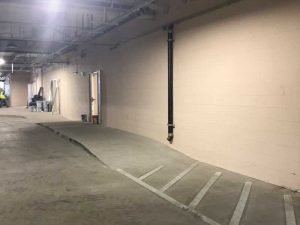 ASTM B117, Standard Practice for Operating Salt Spray (Fog) Apparatus, has been the benchmark test for corrosion since its initial publication in 1939. Recently, it was replaced with ASTM D5894, Standard Practice for Cyclic Salt Fog/UV Exposure of Painted Metal, (Alternating Exposures in a Fog/Dry Cabinet and a UV/Condensation Cabinet). The incorporation of UV radiation and condensation cycles into the cyclical salt-spray test provides the best real-world test for evaluating the performance of a coating system. It should be the reference standard for building professionals.
Beautify
The final step is enhancing the building's aesthetics with a wide color palette while meeting NFIP's cosmetic repair objective for easy cleaning, sanitizing, and resurfacing. Latex-based cold fluid-applied waterproofing membranes provide high flexibility in color tinting. They can also be top-coated with good quality latex paint for color without losing their waterproofing attributes. They are easy to apply and can also be cleaned and resurfaced at minimal cost.
It is important to note that if the waterproof coating was penetrated, say from a strike from an object or vehicle, and the block was fractured, the waterproof integrity of the wall would be breached.
Conclusion
Properly waterproofed and protected masonry units allow designers and specifiers to meet the requirements of NFIP, and create wet flood-proofed buildings that will weather the elements and protect occupants and owners from excessive flood losses. For centuries we have built near bodies of water for their commercial and aesthetic value. As seas rise, natural disasters become more frequent, and storm repair costs increase, masonry stands as one of the best flood damage-resistant building material options.

Harry J. Lubitz, CSI, CDT, is the architectural sales director for UGL – United Gilsonite Laboratories, Inc. Lubitz has more than 40 years of experience in the building materials industry and is active in numerous architectural and professional organizations including CSI, IIBEC, and ASTM. He has also served as an adjunct faculty member at Lord Fairfax Community College in Virginia. Lubitz can be reached at harry.lubitz@ugl.com.