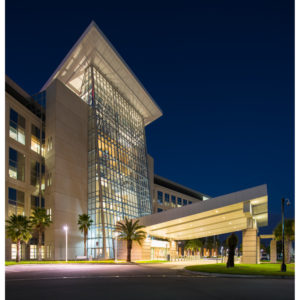 Hurricane resistance can be important in many applications, but for a 2015 veterans' hospital project in central Florida, the consideration was critical. Orlando Veteran Affairs Medical Center (VAMC) is located in a region where it is at a 40 percent risk of encountering a hurricane.
In response to this, the hospital installed more than 22,761 m2 (245,000 sf) of weather-resistant metal wall panels, tested to withstand the winds of a Category 3 hurricane (ranging from 178 to 208 km/hr [111 to 129 mph]). Panels varied in color to enhance the center's exterior aesthetics—for instance, 10,576 m2 (113,846 sf) of 76-mm (3-in.) horizontal panels were installed in white. Other panels, measuring 51 mm (2 in.), included:
211 m2 (2269 sf) in sandstone;
9013 m2 (97,015 sf) and 2868 m2 (30,876 sf) in respective shades of gray; and
176 m2 (1896 sf) comprising stainless steel.
Featuring thermal efficiency, moisture control, and weather resistance suitable for the hurricane risk in Orlando, the panels are pressure-equalized along horizontal joints. Insulated metal vertical (IMV) joints are also employed, improving visual appeal by creating the illusion of an uninterrupted façade and minimizing both streaking and staining. All panels used are 22-gage and feature foamed-in-place cores to minimize gaps in insulation.
The building also includes a number of features intended to enhance its relevance to veterans. One unique feature is its location—adjacent to Orlando Veterans Memorial Park. The hospital is part of the 26-ha (65-acre) 'Medical City,' which includes a 120-bed Community Living Center (CLC) and 60-bed Domiciliary and Mental Health Residential Rehabilitation Program as well as the 134-bed VAMC.
To support its service of approximately 115,000 veterans each year, VAMC's interior offers features such as flat door handles in patient exam rooms. Such hardware is operable not only by hands, but also by elbows. Gardens and a large dining area are also onsite.
VAMC was designed by RLF Architects, with Crown Corr as the installer and Brasfield & Gorrie as the general contractor. The facility was certified to Silver under Leadership in Energy and Environmental Design (LEED)—an achievement to which the Environmental Product Declaration (EPD)-certified panels contributed.