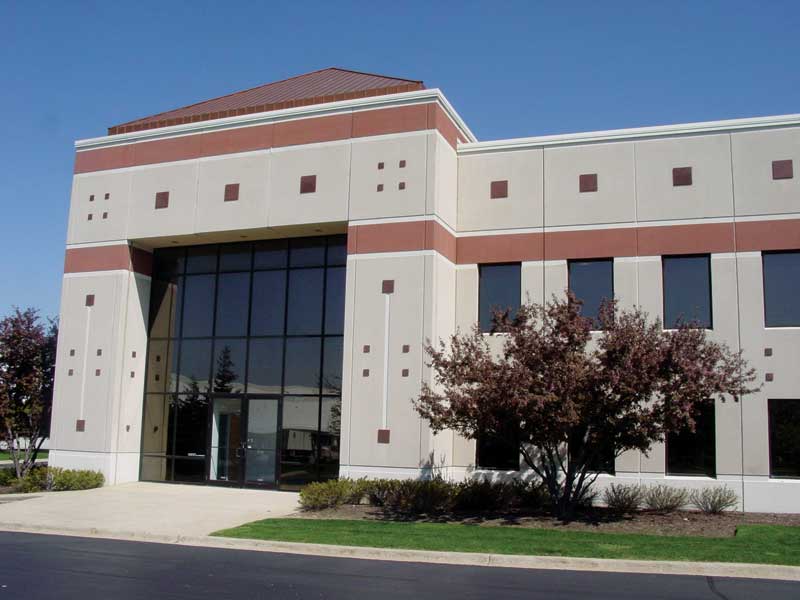 by Jason Bakus
Silicone's excellent aging characteristics, resistance to ultraviolet (UV) light and weathering, and long effective life span has made pre-cured sealants a popular material for construction-related applications.
Pre-cured sealants of silicone are produced by extruding elastomeric sealant material and allowing it to cure to a rubbery, flexible product in a controlled manufacturing environment. They are packaged in cured form—often in rolls—instead of typical liquid form packaging such as tubes or pails. The sealant is installed using a thin layer of adhesive on each side to attach to the substrate being sealed. The material is then pressed into the adhesive to ensure adequate contact between the pre-cured sealant and the adhesive, as well as between the adhesive and the substrate.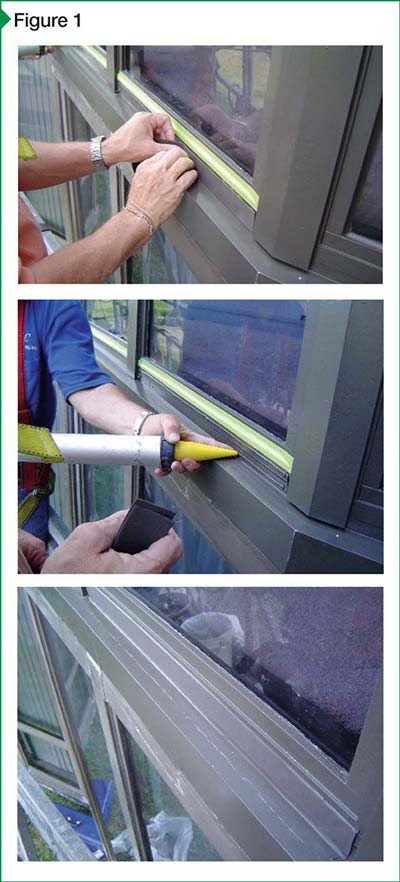 With the outer edges adhered to the substrate, the middle of the pre-cured sealant material (which is not bonded) acts as the area for expansion and contraction. Pre-cured sealants are most commonly produced as flat extrusions with a thickness of approximately 2 mm (0.08 in.) and widths varying from 12.7 to 356 mm (0.5 to 14 in.). They are readily available in many standard sizes and colors and are also offered in custom hues and designs to fit various application requirements. These custom pre-cured sealants are available with different surface textures designed to match the appearance of exterior insulation and finish systems (EIFS), stucco, and other surfaces.
Pre-cured sealants can also be produced with one or more notches in the extrusion, allowing the material to bend uniformly in specific locations and seal complex configurations in applications—such as inside and outside corners, parapet caps, and window mullions. Figure 1 demonstrates the basic steps involved in installing pre-cured sealant, including the application of the adhesive, pressing the pre-cured sealant into place, and the completed installation.
The movement capability for silicone pre-cured sealants is commonly 200+ percent, meaning the pre-cured sealant can expand at least twice as much as the original joint size, which is significantly higher than other types of sealing products. The combination of high movement capability and thin material gives silicone pre-cured sealants the ability to easily handle multi-directional movement. Other advantages include a wide operational temperature range, and better resistance to color fading.
Commercial building envelope repair 
Pre-cured silicone sealants have been used in North America for the past two decades in the construction industry, mainly for commercial building envelope repair applications. An example of this application is the repair of failed, standard sealant joints. Figure 2 shows a 76.2-mm (3-in.) wide sandstone-colored pre-cured sealant being installed over an existing failed traditional sealant joint.
When pre-cured sealants are used to repair a failed traditional sealant joint, there is no need to remove the old sealant. Installation is straightforward; the pre-cured material is simply applied over the old joint using a thin layer of adhesive on each side of the material's extrusion. One of the biggest advantages of using pre-cured sealants in these applications is they can be installed directly over the existing failed sealant and labor cost savings can be significant.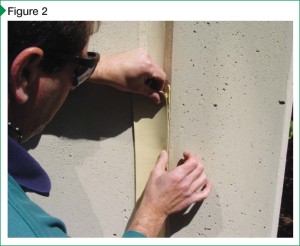 The most common building envelope repair applications include:
failed joint repair;
EIFS joint repair;
undersized expansion joints;
roofing and parapet seals;
flashing;
splice joints;
skylights;
curtain wall seals;
window perimeter seals; and
window glazing.
Pre-cured sealants' unique physical properties allow them to be used in applications where conventional sealants cannot perform. Among these applications are those in which the available joint configuration is not conducive to hourglass-shaped standard sealant joints, such as those with insufficient joint depth or width to handle the joint's movement. This situation can often arise when joints are improperly designed, or when they are undersized due to faulty installations. The latter situation commonly occurs with window perimeter joints when the window opening is not accurately sized.
Other ideal applications for pre-cured sealants include joint repair in EIFS or other soft substrates that could be significantly damaged by removing the existing sealant. As the existing sealant material is not disturbed during installation, applications where the substrates or existing sealants contain hazardous materials—such as asbestos or polychlorinated biphenyls (PCBs)—can be properly addressed with pre-cured sealants.