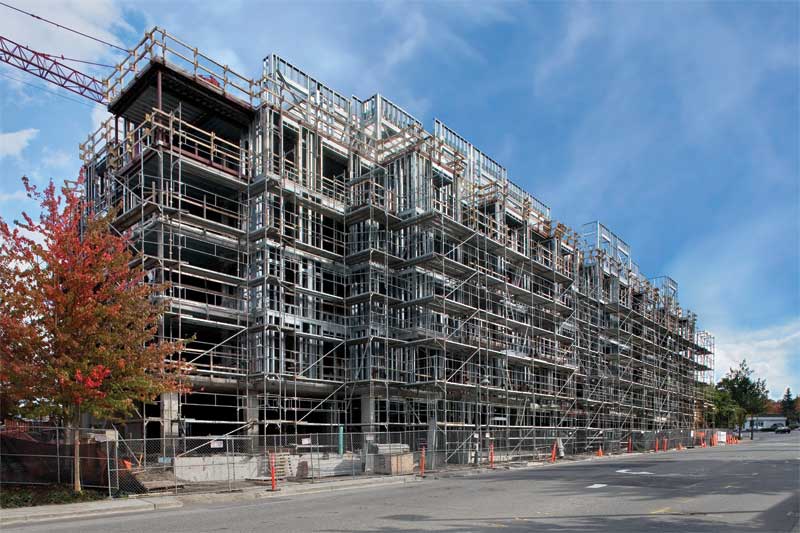 by Mark A. Thimons, PE, LEED AP
Steel has long been recognized for its strength, durability, and functionality. More recently, it is being noted for additional advantages in sustainability, particularly its high recycled content and end-of-life recovery rate. When used in construction, the material contains between 25 and 100 percent recycled content, is nontoxic and noncombustible, and creates minimal waste during production. it is also 100 percent reusable or recyclable at end of life with no loss in performance.
This last point is particularly important, as the ability for future generations to reuse steel products over and over defines its sustainability. Since 1990, the amount of energy needed to produce a ton of steel in North America has decreased by 31 percent and associated carbon dioxide (CO2) emissions have also reduced by 36 percent, with some even greater improvements expected in the future.
Over the years, sustainable design standards and green building rating systems like the U.S. Green Building Council's (USGBC's) Leadership in Energy and Environmental Design (LEED) program have helped construction professionals demonstrate the sustainability of their building projects. The use of steel construction products can assist in the meeting of the LEED certification requirements, helping earn points for projects in a range of credits.
In 1998, LEED was introduced to help professionals design, construct, and operate buildings in more sustainable and efficient ways. Currently, 3.4 million m2 (3.6 billion sf) of North American real estate is LEED-certified. In 2015, the green building growth rate hit 13.2 percent, and the industry is still a $120- to $145-billion market growth opportunity.
As energy efficiency and sustainability have both become more common, LEED and green building have evolved from a set of aspirations to being the marketplace standard. The program is referenced in planned building project specifications for nearly 71 percent of projects over $50 million, making it vital for construction professionals to remain up to date with its latest developments and requirements. ( This is according to a 2011 report by Harvey M. Bernstein, F.ASCE, LEED AP, called "The Green Outlook 2011: Green Trends Driving Growth through 2015." For the full report, visit www.ecocosminc.com/img/2011_McGraw_Hill_Green_Outlook.pdf.)
New additions in LEED v4
The rapidly evolving green building industry and increasing demand for environmental sustainability have led to updates, improvements, and also a more rigorous LEED certification process. The development of its latest iteration, LEED v4, spanned more than three years, engaging hundreds of volunteers and thousands of stakeholders worldwide.
The updates to LEED increase the focus on materials and resource transparency. Building professionals must understand how material decisions could affect
the project review and certification process. Steel-intensive building designs can be a significant contributor to earning points for a variety of LEED v4 credits. They may also provide builders with an immediate advantage because of the North American steel industry's transparent supply chain and wealth of available life cycle inventory (LCI) data for all steel products.
The health and well-being of building occupants also factor into LEED v4. Human health credits are new to the rating system and can be achieved through a variety of documentation practices, including Health Product Declarations (HPDs) and Material Health Certificates. These documents examine the potential human health impacts of products used in building construction, providing a comprehensive view of the contents of a product and their potential health hazards. These declarations deliver increased transparency by helping construction professionals accurately assess and also compare product health characteristics.
In the interest of improving its rating system methods, LEED v4 places an increased focus on life cycle assessment (LCA), environmental product declarations, and improved product transparency. Understanding no two projects are the same, LEED v4 features greater flexibility for different market sectors, as well as a more streamlined documentation process with better alignment between rating systems.
TRANSPARENCY IN THE NORTH AMERICAN STEEL INDUSTRY
The North American steel industry provides resources to help building professionals earn certification under the Leadership in Energy and Environmental Design (LEED v4) program. In particular, the industry has been working to develop a complete list of available Environmental Product Declarations (EPDs) for steel building products. These EPDs are more comprehensive than those for some other building materials, creating an all-encompassing view of each product's environmental impacts.*

Currently, EPDs are available in the following product categories for use in North America:
cold-formed steel studs and track—Steel Recycling Institute (SRI);
open-web steel joists—Steel Joist Institute (SJI);
steel roof and floor decks—Steel Deck Institute (SDI);
roll-formed steel panels (Canada)—Canadian Sheet Steel Building Institute (CSSBI);
roll-formed steel panels for roofs and walls—Metal Construction Association (MCA);
insulated metal panels (IMPs)—MCA;
fabricated steel plate—American Institute of Steel Construction (AISC);
fabricated hot-rolled structural sections—AISC;
primary structural steel frame components—Metal Building Manufacturers Association (MBMA);
secondary structural steel frame components—MBMA;
roll-formed metal wall and roof panels—MBMA;
fabricated hollow structural sections—AISC and Steel Tube Institute (STI);
hot-dip galvanized steel after fabrication: galvanized hot-rolled sections, plate, and hollow structural sections—American Galvanizers Association (AGA);
hollow structural steel (HSS) sections—STI;
fabricated structural steel plates (painted)—Canadian Institute of Steel Construction (CISC);
fabricated structural steel plates (unpainted)—CISC;
fabricated HSS sections (painted)—CISC;
fabricated HSS sections (unpainted)—CISC;
fabricated hot-rolled structural steel sections (painted)—CISC; and
fabricated hot-rolled structural steel sections (unpainted)—CISC.
* More information on steel product EPDs and updates on their sustainability resources can be found at www.buildusingsteel.org/EPDs.