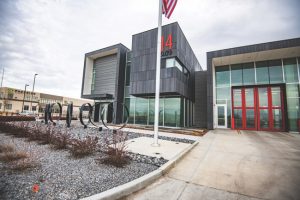 Salt Lake City's Fire Station No. 14, Utah, earned the Leadership in Energy and Environmental Design (LEED) Gold certification for its energy-efficient, environmentally responsible design and construction. When it opened in 2018, it was one of the first net-zero-energy (NZE) fire stations in the country, meaning it generates more energy than it consumes. Helping achieve the building's performance goals was triple-glazed thermal block curtain wall, multi-pane storefront, and interior framing systems.
Salt Lake City's NZE facilities mandate and 'Climate Positive 2040' plan seeks to achieve net100 percent renewable electricity by 2030 and to reduce carbon pollution by 80 percent by 2040. Exemplifying this directive, Station 14 features a solar panel roof array, geothermal heating and cooling, and high-performance building envelope.
The thermal block curtain wall system offers a fully, thermally broken system engineered to meet or exceed stringent energy codes and NZE designs. Even in extreme cold climates, the curtain wall provides superior energy and condensation resistance performance using multiple thermal barriers, while providing structural integrity and aesthetic flexibility.
Energy-efficient thermal performance and condensation resistance, healthy indoor air quality (IAQ) and natural ventilation, and daylight and outdoor views support projects seeking LEED certification. These attributes also help ensure the health and readiness of firefighters who live and work in the building. Further contributing to the community's environmental and economic goals, the building was designed for a lifespan of at least 50 years.
Blalock & Partners Architectural Design Studio worked with fire station specialist TCA Architecture + Planning to meet all of the project's objectives. Zwick Construction led the project's nearly two-year construction, staying on schedule for the May 2018 opening. The two-story, 1589-m2 (17,100-sf) building includes a four-bay garage, dormitory rooms for 12 firefighters, multipurpose room, dayroom, exercise room, commercial kitchen, and a second-floor deck.
Enclosing the two-story Fire Station No. 14, the triple-glazed thermal curtain wall incorporates dual, thermal polyamide insulating strut between the interior and exterior aluminum framing members to achieve U-factors of 0.21 for thermal transmittance and a frame condensation resistance factor (CRF) of 84. The curtain wall's enhanced thermal break is located in the tongue area of the back member.
The triple-glazed insulated glass is positioned to the system's exterior for enhanced resistance to rainwater. The glass units also were specified with a low‑emissivity (low-e) coating and custom ceramic frit to manage solar heat gain. Reducing unwanted solar heat and condensation improves comfort, sanitation, and air quality inside the station.
Minimizing both interior and exterior maintenance, all of the aluminum framing on this project was finished in a durable, Class I clear anodize. The no-volatile organic compound (VOC), eco-friendly anodize produces a frosty, matte finish that helps hide small imperfections sometimes seen in recycled aluminum. These qualities have helped the anodize earn a Declare Label, as it does not contain any materials that are on the Living Building Challenge Red List.