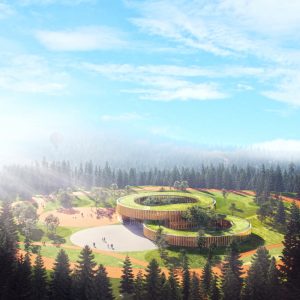 Architect Valentino Gareri has proposed a treehouse school, a sustainable and modular educational building for the post-COVID era.
"The pandemic has highlighted the importance of designing buildings where the relationship with nature is reinforced and outdoor and indoor spaces are more connected to each other," Gareri said on his website. "The schools of the future will have to be designed under a new point of view. Rather than just considering the criteria of sustain-ability, they will have to embrace the ability-to-sustain the new conditions where the pandemic put the entire society in."
The Tree-House School is a modular educational center that can include all the phases of the educational process: kindergarten, primary, and secondary schools. All the required spaces are fitted into two rings—the massing articulation allows one to create two courtyards and an additional usable roof.
The classrooms are located in circles and have connections to the courtyards and the outdoor landscape. Each module of 55 m2 (592 sf) is made of cross-laminated timber and corresponds to an ideal classroom of 20 to 25 students connected by a central corridor.
The building is designed as a 'treehouse' and it is distributed through multiple levels. The roofs are also usable, and indoor and outdoor spaces are combined, allowing high flexibility for educational activities. The main idea is to create a school that is suspended and immersed in nature, as a house tree, where the relationship with nature is physically and visibly increased. This is rendered possible with the faceted façade, made by the alternation of solid timber and glazing panels. The circular perimeter allows direct sunlight to be blocked with the opaque panels, and get diffused light and free view through the transparent ones.
The modularity of the design allows for future school extension and different programs. It can also be adapted to create various functions such as temporary medical centers or residential units.
"The school of the future has to be sustainable and at the same time, able to sustain the new post-COVID requirements," Gareri said on his website. "It has to be inclusive of outdoor spaces and open to nature, made of natural materials, and low-cost construction techniques such as modular design. It has to be highly flexible and be able to be adapted to different functions and programs, and provide several benefits to the whole community."