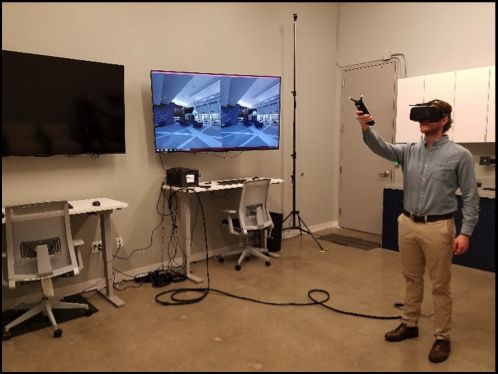 by Russ Alford
Can you imagine being able to see and experience a building before it is constructed? This does not mean reviewing blueprints or watching a building information modeling (BIM) video, but virtually entering a room or building, walking around, and picking things up and rearranging them. That vision is now possible, thanks to virtual reality (VR).
No other equipment allows for this kind of interactivity, which gives owners the opportunity to see their projects come to life—and make changes to design and layout—before ground is broken.
Why use VR?
VR's emergence into the construction industry has allowed construction and design teams to ensure efficient functionality of a room or space early on in the project. As VR equipment is portable, the cost of physical mockups—which cannot easily be transported—has also been eliminated. With portable VR equipment, construction teams can now set up the virtual space in a conference room, allowing any employees with a few minutes to spare to experience the space and offer their feedback.
These benefits make VR incredibly useful for a variety of spaces, including:
highly technical areas such as operating rooms and mechanical rooms;
large-scale spaces such as lobbies and atriums; and
repetitive rooms such as hospital and hotel rooms.
Use of VR in this industry is transforming the entire design and construction process. The ability of owners and employees to experience the built environment before a space is constructed has improved both the pace at which clients make decisions and the quality of those decisions, reducing design times and eliminating excessive changes to the project.
Being able to virtually enter a room or building also facilitates important conversations about equipment placement, guest flow, and the scale of the space. The VR experience is much more realistic and user-friendly than looking at blueprints and 3D models, giving clients the confidence to make significant—and much less expensive—changes during earlier stages of planning.