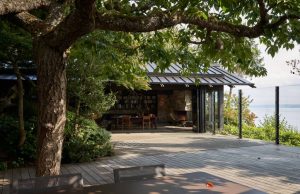 Loom House is an extensive renovation of a 1960s northwest-style home on Bainbridge Island, Washington, designed by the Miller Hull Partnership.
The Loom House is considered the most sustainable in the world, through achieving Living Building Challenge certification, net positive energy and water, food production, and a strict materials Red List. A photovoltaic system on the south home provides energy for the entire property, and battery storage ensures resilience. Rainwater cisterns and a gray water treatment system ensures resources are conserved.
The 297-m2 (3200-sf) residence is completely renovated to improve the building envelope, providing systems and offering updated interiors, while maintaining the original architecture of the home. A new, 67-m2 (725-sf) detached carport and storage area is added to the property. It also includes custom furniture and furnishings made of natural materials crafted by local artists; creating a comfortable interior.
The landscape consists of plantings of Japanese maples, flowering trees, rhododendrons, and azaleas. A new walkway curates a path through the 61-m (200-ft) tall evergreens over an installation of natural stone in a dry stream bed arrangement. A variety of edible berries, vegetables, and a foraging forest provide agriculture for the property.