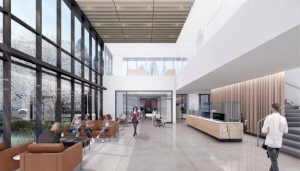 Washington's new behavioral health facility's open-concept and flexible layout aims to maximize wellbeing, healing, and learning around a patient-centered, integrated care model emphasizing a mind and body bridge.
Designed by SRG Partnership, Clark | Abbott Joint Venture and the University of Washington, the new the new six-story, 17,095 m2 (184,000 sf) building will be located adjacent to an existing acute care hospital on the UW Medical Center Northwest Campus. Designers plan for it to be a fully integrated welcoming and healing environment for individuals struggling with both physical and behavioral health conditions. The design will maximize access to daylight and views while assuring patient privacy, dignity, and safety. Inviting spaces, such as indoor and outdoor dining, conference rooms, and state-of the art neuromodulation services, will be used to promote mental health awareness across the campus, community, and state. A minimal neutral palette will be used with wood tones and accents throughout to create a sense of comfort to ease stress and welcome patients, family, and visitors.
Smaller, semiprivate spaces will provide patients opportunities for respite and quiet. The new building will also feature dedicated outdoor landscaped terraces for patients to emphasize connections to fresh air and nature as well as a larger shared outdoor therapy/recreation space to support physical activity and exercise.
Establishing a new benchmark for behavioral health, this innovative facility has a commitment to healing, training and education, and integration into the community as a resource for mental health advocacy. Slated for completion at the end of 2023, the building will be a home for an interdisciplinary training and workforce development program focused on preparing and supporting the next generation of health care providers for Washington State.