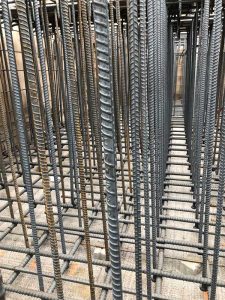 Mat foundation tie-downs
Mat foundation slabs may require ground anchors to stabilize the mat slab from uplift (Figure 5). These anchors commonly include a long, threaded steel bar encased in grout below the mat slab and capped with a steel plate embedded in (or above) the mat. The steel bar below the plate is separated from the concrete via a polyvinyl chloride (PVC) sleeve, which also encases a protective grease for the bar. The tie-down anchors rely on the friction between the soil and grout. The anchor may be tensioned once the concrete is poured and cured. This condition is referred to as prestressed or actively stressed and requires a temporary concrete block-out above the bolt and plate. A passively stressed anchor does not experience tension until the dewatering is shutoff and/or slight differential settlement occurs; at that time the plate transfers the bar tension to shear and flexural stresses within the mat foundation, which may require additional reinforcement in the mat.
Mat foundation anchors within the water table are often auger cast. A drill rig, often before excavation begins, will drill to the required depth with a hollow-stem auger. Grout with density exceeding the water and surrounding soil pressures is delivered out of the base of the auger. The grout is pumped into the hole while the auger is lifted out, ensuring the tip of the auger always remains below the top of grout. A threaded bar is then wet set into the grout.
Prestressed mat slab anchors present three points of potential water entry:
Bottom of mat slab between the waterproofing and PVC sleeve;
Between the PVC sleeve and bottom of plate; and
At the top bolted connection.
Introducing a steel trumpet (pipe steel welded watertight to the bottom of the steel anchor plate) eliminates the most difficult transition between the PVC sleeve and plate (Figure 6). At the base of the mat slab, the waterproofing simply integrates with the trumpet sleeve similar to a pipe penetration detail. A gasketed steel cap can seal the top of the bolted connection. Most passive anchors can be waterproofed directly to the steel anchor at the base of the mat foundation. In rare cases, the passively stressed anchor may need to slip within the mat slab and a trumpet detail can be applied.
Pile heads
Deep friction piles are often used with grade beams or pile caps, although they occasionally are used with mat foundations. Deep foundation piles support vertical loads either by friction and/or end bearing onto bedrock. Similar to tie-down anchors, these are often auger-cast (Figure 7) and set at the required depth. During excavation, they are chipped down to the precise elevation (Figure 8). Section 1810.3.11 of the International Building Code (IBC) 2018 requires that the pile heads are embedded a minimum of 76 mm (3 in.) into the pile cap. Two main waterproofing coordination items relate to this code requirement.