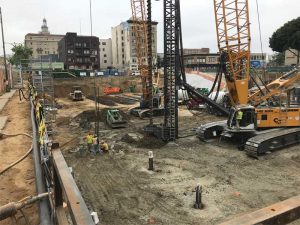 Cast-in-place pilasters in a shotcrete wall
The American Concrete Institute (ACI) requires additional clear spacing between spliced reinforcing bars for shotcrete placement (Chapter 25 of ACI 318, Building Code Requirements for Structural Concrete and Commentary). Proper spacing is required to allow concrete to flow between bars and provide adequate rebar encasement without voids. Shotcrete walls below grade will usually include intermittent pilasters supporting superstructure columns; these pilasters are typically cast-in-place concrete due to the close spacing between reinforcement. The transition between shotcrete and cast-in-place concrete does not affect most waterproofing systems designed for shotcrete, such as thick thermoplastic membranes with heat-welded seams. An exception is one common waterproofing system, which is designed with an integrated cavity to receive post-concrete, chemical grout injections. This cavity is a thin woven fabric mesh layer that acts as a barrier to thick shotcrete but will readily allow for thinner chemical grout to flow through after the concrete walls are set. This system is not suitable for cast-in-place methods due to the relatively higher water content and lower viscosity of cast-in-place concrete during placement. In this case, a compatible transition strip that can accept the cast-in-place concrete must be placed between or integrated with the adjacent shotcrete waterproofing system. The same goes for cast-in-place floor transitions.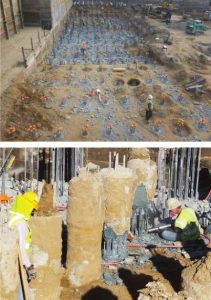 Warranty considerations
The authors recommend waterproofing designers focus their designs on engineering principals and products with proven past-performance history. They acknowledge owners may view manufacturer warranty as an important factor when considering how the project is made and maintained watertight, shifting the risk of post-construction leakage to the manufacturer for an added material purchase cost. No dollar limit (NDL) waterproofing warranty requirements are common. These warranties are specific to the manufacturer and continually evolve. Generally, below-grade waterproofing manufacturers honor awarded NDL warranties via grout injection repairs. Grout injection repair can be a complex, iterative process and is beyond the scope of this article.
Warranty for below-grade waterproofing systems requires several considerations during the design process as well as construction. Special consideration should be given to access to exterior waterproofed walls and slabs for warranted grout injection repairs should the need arise. Obstructed access is usually excluded in warranties for one of the following
two reasons:
The manufacturer is unable to access the wall or slab to perform grout injection. This can occur when finishes, large ducts, heavy utility equipment, or tanks are placed against exterior walls. If these elements can be temporarily moved, it is at the owner's expense. It is in everyone's best interest to promptly review the below-grade conditions following dewatering shutoff.
Void space exists between the groutable surface and the exterior wall or slab. This typically occurs when void form is used to construct parking ramps below grade and in locations with expansive soil. Injection repairs are not feasible here with common grout injection practices. These ramp conditions should be either solid concrete or formed with temporary formwork and given permanent maintenance access underneath.
NDL warranties may require enhanced detailing and materials and third-party inspections are typically mandatory. When the terms of warranty are met, the authors have found reputable manufacturers promptly honor their warranty, although the best waterproofing protection is a sound design, diligent installation, and protecting the membrane during work that follows. The most important step in consideration of the warranty is for the owner to read and understand the terms. The waterproofing designer has a role to play in supporting the owner in their consideration of whether or not to proceed with a warranty.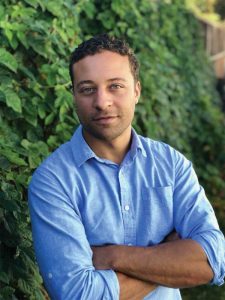 Bill M. Woods is a project consultant with Simpson Gumpertz & Heger, Inc., in the San Francisco Bay Area, California. Woods is experienced in the design, investigation, and rehabilitation of several building enclosure types. His work includes below-grade waterproofing, roofing, plaza waterproofing, and exterior wall consulting. Woods can be reached at wmwoods@sgh.com.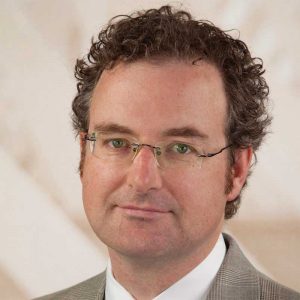 Daniel G. Gibbons, PE, is principal with Simpson Gumpertz & Heger, Inc., in the San Francisco Bay Area. As a member of the Building Technology group, Gibbons is experienced with investigation and design of commercial, institutional, and residential buildings for waterproofing issues, including roofs, plaza areas, below-grade spaces, and exterior walls. He has consulted with architects, contractors, and building owners to analyze and repair water intrusion problems and construction defects. Gibbons can be reached at dggibbons@sgh.com.