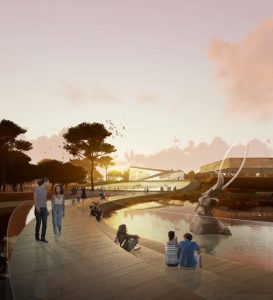 Architecture firm Weiss/Manfredi will lead the master-planning team that is reimagining the world-renowned La Brea Tar Pits for the Natural History Museums of Los Angeles County (NHMLAC).
The team will work with NHMLAC on a multi-year process of public engagement, master planning, design, and construction at the Tar Pits' 5-ha (13-acre) campus, which encompasses the world's only active paleontological research site in a major urban area, its asphalt seeps, surrounding parkland, and the George C. Page Museum building.
"Our 'Loops and Lenses' concept creates new connections between the museum and the park, between science and culture, and envisions the entire site as an unfolding place of discovery," said Marion Weiss and Michael Manfredi, principals at Weiss/Manfredi. "We are thrilled to begin work with Bettison-Varga [president of NHMLAC] and NHMLAC to rejuvenate the Tar Pits and the museum and carry them into the future and into the public imagination."
NHMLAC chose Weiss/Manfredi's team through an international search process where three finalists were selected based on the overall quality and character of their response to a request for information (ROI), their conceptual approach to the project, and their previous experience and team strength, along with interviews and references.
Weiss/Manfredi's multidisciplinary team includes Los Angeles-based experiential designer Karin Fong of Imaginary Forces, horticulturalist and expert in water conservation and California ecology, Robert Perry of Perry and Associates Collaborative, La Brea-educated paleobotanist Carole Gee, naturalist and artist Mark Dion, and designer Michael Bierut of Pentagram.