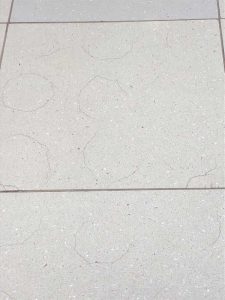 Some important elements of the proposed product standards are:
only applicable to tile and stone installations;
covers standard and rapid-hardening formulas;
≥ 20.7 MPa (3000 psi) compressive strength required for all formulations; and
must be rated for Extra Heavy Service in accordance with ASTM 627, Standard Test Method for Evaluating Ceramic Floor Tile Installation Systems Using the Robinson-type Floor Tester.
Also, the currently proposed installation standard provides specific instructions when floor leveling, not just floor flattening; is required.
When substrate leveling to designated elevations is required on a project, this intent needs to be clearly specified along with tolerances. Substrate leveling requires extensive surveying and additional costs in labor and materials. Leveling may not be plausible for the project due to adjacent finishes and/or passageways, especially in remedial work. SLU mortars may not achieve a level surface without additional pinning, preparation, and labor. It is advisable to consult the SLU manufacturer for specific recommendations not addressed by this standard.
More mortar leads to problems
Instead of using a self-leveling cement underlayment for the purposes of truing a floor prior to the tile installation, a contractor may choose to utilize the tile setting mortar for flattening and tile setting. The intent is to save time, money, and labor by eliminating SLU. This tack is acceptable for a substrate that is within the tolerance of ≤ 3 mm in 3 m. However, using mortar to flatten substrates 3 mm in 3 m should be avoided.
ANSI A118.4, Modified Dry-set Cement Mortar, and A118.15, Improved Modified Dry-set Cement Mortar, establish maximum mortar thickness for large and heavy tiles (LHT) at 13 mm (½ in.) after tile embedment. Applications exceeding this value because the mortar was used to flatten the floor, and adhere and support the tile, causes mortar shrinkage. As the adhered mortar shrinks, it can pull the tile with enough force to crack or deform it. Spot bonding of cementitious mortars, an installation method not endorsed for floors by the Tile Council of North America (TCNA) or ANSI A108, A118, and A136, will contribute to excessive mortar thickness and shrinkage (Figure 4).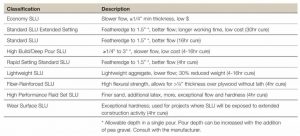 Dabbing mortar randomly, instead of unidirectionally combing or troweling utilizes less time, material, and labor. So, spot bonding is done to cheapen an installation. More often though, it is used to correct uncollapsed mortar ridges and insufficient mortar coverage because the substrate was not flattened first with SLU before the mortar was applied (Figure 5).
SLU selection
Setting material manufactures provide several self-leveling underlayment formulations optimized for specific floor leveling situations. Whether by specification or a contractor's choice, a project's site conditions and flooring requirements can be better addressed with the right product, potentially saving time and labor, as well as achieving a more suitable substrate for tile installation. Figure 6 illustrates the range of products available to manage the project's budget, construction schedule, degree of flattening (or leveling), and product working time.
Surface preparation
Cementitious self-leveling underlayments should only be applied to clean and structurally sound concrete substrates. It is recommended to remove bond-breakers, such as grease and oils or curing compounds and damaged and loose concrete. Surface should be roughened or profiled to promote a better mechanical bond of the primer and SLU to the concrete.
SLUs can also be applied over gypsum-based underlayments, oriented strand board (OSB) underlayments, cutback adhesive residues, epoxy and cement terrazzo, metal, ceramic and stone tile, and well-adhered resilient flooring. Careful evaluation of these conditions must be made before installing a self-leveling product. Manufacturers will have specific preparation requirements for these conditions and could in some instances, require a complete tear out before attempting to install a SLU.