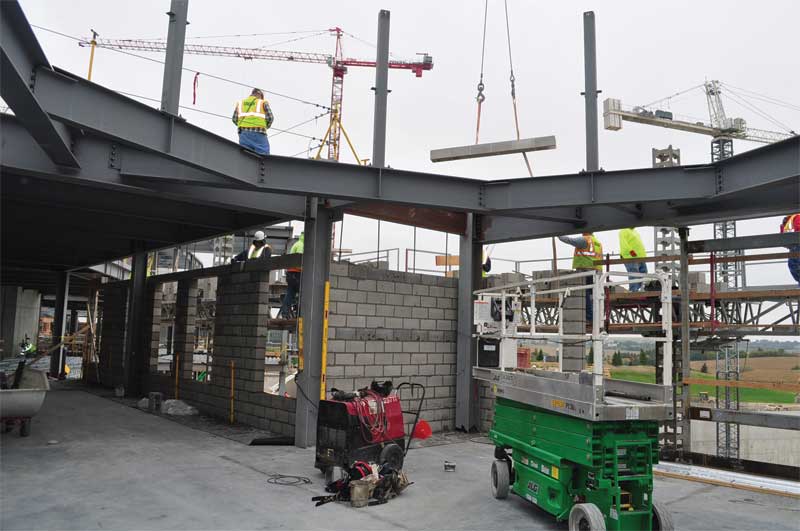 Cost, speed, and quality control
In all the situations above, efficiently designed structural masonry can reduce cost and increase both quality and speed of construction. Concrete masonry is sourced locally, with fabrication plants across the United States carrying enough stock or having the production capacity to give near-immediate product delivery. Using local materials creates local jobs in masonry production, transportation, and installation.
Structural masonry building systems do not require fabrication shop drawings, which decreases the time between concept and implementation. The modular sizing and nature of the product also allows for easy field changes in order to accommodate design issues or tolerances of nearby materials.
A recently constructed elementary school gymnasium in Wisconsin went from ground to finish in just four days, illustrating the cost, speed, and quality benefits of masonry. Bringing the "four-day gym" to life only took 12 masons, six laborers, two tenders, and six pieces of hydro-mobile scaffolding. The construction team pushing for a solution similar to this four-day gym routinely value-engineers masonry into their structures, improving the bottom line, reducing the risk of moisture-related call-backs, and shortening construction times. The contractor or construction manager on the project often works with the region's structural masonry coalition to create more efficient use of reinforcement, grout, and unit size. In particular, masonry lintels may be proposed, which can be faster, less costly, and more robust than steel wide flange lintels with thin masonry face shells precariously connected to it.
Tips for structural masonry construction
Here are more practical tips for optimizing structural masonry construction.
Make effective use of joint reinforcement
Joint reinforcement can be used to meet horizontal reinforcement requirements in many cases. Bond beams are typically a more expensive option, but can offer more horizontal steel reinforcement area. Both can and should be used for different needs.
Specify higher unit strength
Consider specifying concrete masonry units (CMUs) with unit compressive strengths above ASTM's minimum requirements. The higher unit strength results in higher masonry assembly compressive strength (f'm). This can create cost-savings, since it reduces the need for vertical reinforcement and grout. Partially grouted walls can also be structural.
Be mindful of grouting methods
One option may be to let the masonry contractor choose the method of installing the grout, low or high lift. However, it is important to understand the difference between a grout pour and a grout lift because codes have evolved to consistently allow higher grout pours and lifts.
One must make sure to specify grout strength properly. The minimum permissible compressive strength for grout is 13,790 kPa (2000 psi) at 28 days. For many projects, this may be appropriate. However, code requires grout compressive strength equal or exceed f'm. When f'm is specified as greater than 2000 psi, then the grout compressive strength should be specified to either equal or exceed the specified f'm value. For example, if f'm is specified to be 2500 psi, the minimum specified grout strength, f'g, would be 2500 psi.