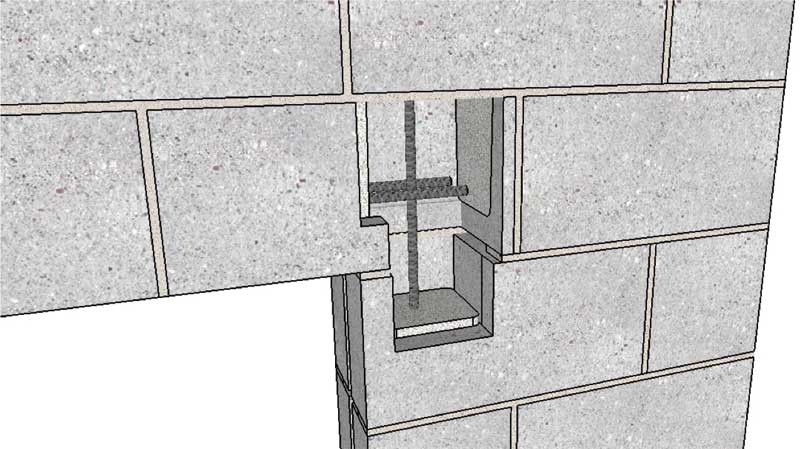 Consider internal bracing
There are two approaches to bracing masonry walls under construction—external (traditional) and internal (well-established but not as often used). Both are engineered approaches. Using vertical rebar already existing in a wall provides resistance to lateral loads during construction. If the wall is engineered properly, this can reduce or eliminate the need for external bracing. (For more information, read the article, "Internal Bracing Design Guide for Masonry Walls Under Construction," published by IMI at imiweb.org/wp-content/uploads/2015/11/IMIInternalBracingGuide.pdf.)
Modular design
One must be mindful of the modular quality of concrete masonry. By laying out a structure to minimize cut blocks, labor and material may be saved. Where concrete masonry is exposed in the final structure, taking the block module into account optimizes the appearance of exposed block.
Conclusion
Structural masonry is a proven system employing cutting edge design tools to create cost-effective, modern structures at a competitive cost and on an efficient schedule. With an improved understanding of structural masonry systems, design and construction professionals can more effectively optimize building delivery and performance.  (Special thanks to Diane Throop, PE, FASTM, FTMS, for her edits and review of this article.)
Pat Conway, CSI, AIA, is the International Masonry Institute's (IMI's) director of education. He is a registered architect, with expertise in masonry rainscreen walls, air barriers, movement joints, flashing, jobsite troubleshooting, and contemporary masonry wall detailing. Conway has a degree in architecture from the University of Minnesota, and is an active member of both CSI and the American Institute of Architects (AIA). He can be reached at pconway@imiweb.org.
Sam Rubenzer, PE, SE, is the founder of FORSE, a structural engineering design and consulting firm working with structural masonry coalitions in several states. With more than 18 years of industry experience, Rubenzer assists engineers with the designs on a variety of projects, building types, and software programs. Rubenzer has a bachelor's in civil engineering from Marquette University and also a master's in business administration from the University of Minnesota. Rubenzer can be reached via email at sam@forseconsulting.com.
David Sovinski is IMI's national director of industry development. His experience includes masonry project manager, estimator, and architecture and technology teacher at Indiana University Purdue University Indianapolis (IUPUI). Sovinski has a degree in construction management from Purdue University. He can be contacted at dsovinski@imiweb.org.