by Michael Martin and John Brunko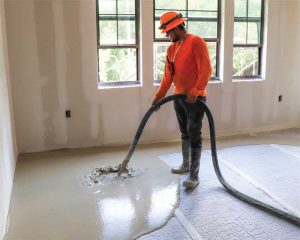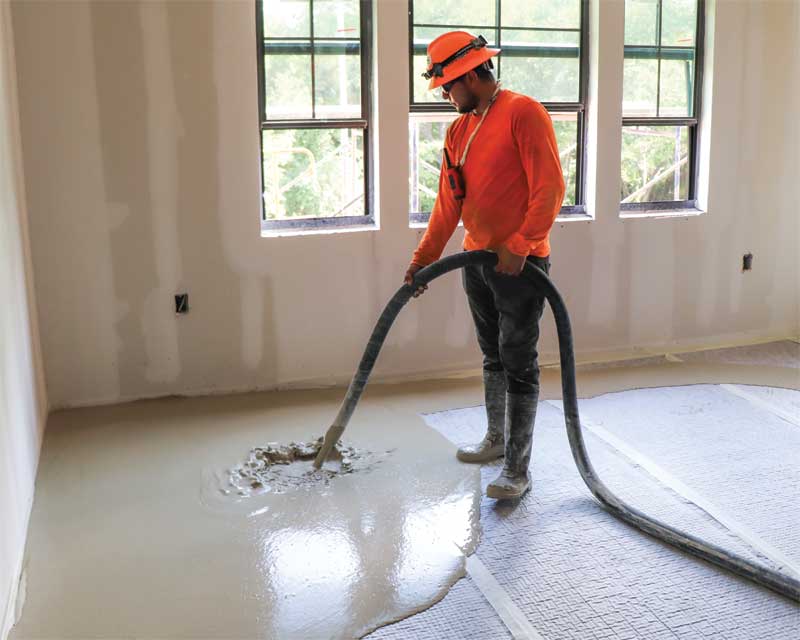 Heavy steppers, clumsy residents, large pets, and excessive volume from television sets and stereos at a suite above could make life miserable in a multilevel townhome or apartment. For owners in the multifamily and the hospitality industry, these issues can also negatively impact profitability, resulting in a higher turnover or a reduction in repeat business. Although it may seem like a small part of the project, correctly understanding impact insulation class/sound transmission class (IIC/STC) ratings as well as choosing acoustical underlayments can have an immense effect on the lifetime profitability of a project and value of repeat clients and customers.
While the construction industry has seen many advancements and improvements in recent years, the numbers and accepted design practices do not always produce the expected results in real-world applications. Lab-performed tests provide a snapshot of acoustical performance. However, they do not account for the impact of load applied to the floor when a tenant moves in. At the end of the day, the acoustical performance of an assembly is determined when tenants put their heads on pillows.
A brief history of acoustical control mats
Throughout the 1950s and '60s, new fire codes were introduced and existing ones updated to increase public safety. Gypsum was an excellent choice to increase fire-ratings for flooring assemblies due to its low-cost, lightweight, and reliable performance as a fire-rated material. Gypsum underlayments also had the added benefit of reducing sound between existing floors, and savvy marketers soon began touting these unique selling points. For customers looking for increased performance (especially under areas that would receive hard-surfaces for the finished floor), manufacturers began to produce a range of products to install before the gypsum underlayment. Sheet goods and rolled products in a variety of material types were developed as architects and owners saw the advantages of quieter units.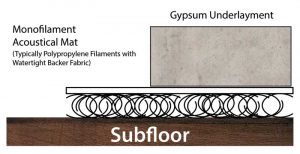 Typically, there have been two approaches to sound reduction: dampening (absorption) and decoupling. Absorption occurs when an underlayment 'soaks up' incoming acoustical energy. The material dampens the vibrations as they pass through, thus resulting in less energy output. Materials like rubber, neoprene, and foam panels do an excellent job of reducing sound in this manner.
Decoupling is accomplished by isolating surfaces entirely, resulting in two separate layers for the vibrations created by sound to pass directly through. An assembly built this way forces acoustical energy to pass through two isolated layers of noise reduction with deadening properties. Energy is lost through transference, thereby increasing the performance of the system as a whole.
The 1980s saw the introduction of mass-spring technology mats (Figure 1). These mats proliferated in popularity due to its ease of installation, low cost, and impressive test performance. They attempt to isolate the gypsum underlayment from the subfloor entirely by using an entangled mesh of synthetic fibers, allowing the floor to float and the fibers to absorb any transferred acoustical energy from the floor above.
Recent years have seen the addition of a new generation of rigid mats with the ability to decouple the surfaces with a thinner profile while providing higher compressive strength (Figure 2). Required pour depths for gypsum underlayments over inexpensive monofilaments can be as thick as 38 mm (1 ½ in.) to meet the minimum requirements for sound attenuation in many regions of the United States (i.e. 50 STC and 50 IIC). Conversely, rigid mats can be 20 mm (¾ in.) deep, requiring less material for the underlayment pour while delivering ratings in the range of 60 STC and 55 IIC. When considering the added cost of materials and longer downtime on the building site to allow for proper curing of the thicker gypsum underlayment pours, these mats are competitive in terms of cost per square foot and performance when compared to monofilament technologies.
Smoke, mirrors, and STC/IIC ratings
STC is a sound rating that attempts to measure the effectiveness of an assembly in addressing ambient or airborne sound. The test measures airborne sound transmission loss between 125 and 4000 Hz IIC. Sounds defined in this range include voices, music, televisions, pet noises, and others common to habitation. When assessing STC in the lab, sounds are generated using a tone generator, and the sound pressure levels (SPLs) are measured in the testing room and the room below. The resulting loss across each of the 16 bands is evaluated and then applied to a sliding scale that essentially averages the results.