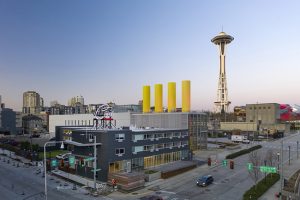 Architecture firm Wittman Estes has completed Civic Hotel, a renovated boutique hotel located between the Space Needle and the rapidly transforming South Lake Union neighborhood in Seattle, Washington.
The site is at the nexus of the newly reconnected street grid where the hotel marks the north entry of the recently re-opened SR99 tunnel. Originally dubbed the Imperial '400' Motel and built for the Century 21 World's Fair in 1962, the building has been reimagined with modern interiors and outdoor spaces in the spirit of jet travel, optimism, and a Seattle blend of technology and nature—building on themes of lightness, speed, and flight.
Standing three stories, the transformed 2549-m2 (27,433-sf) building comprises 52 guest rooms. On the ground level is a lobby and event space, while on the second and third levels are 26 guest rooms each. The second level also houses a gym. A rooftop Sky Lounge is planned for a future phase.
The original hotel had been poorly renovated over the years, masking the original bones of the architecture and turning inward to avoid the noise of SR99. The existing lobby was dark and disconnected from both the surrounding cityscape and the guest rooms above. With the new tunnel placing the highway underground, the hotel owners sought to take advantage of the lower noise level and create an indoor-outdoor experience on the lobby level.
The renovated lobby features a new glass staircase with floating Douglas fir treads bringing guests to the upper level guest rooms. A new 93-m2 (1000-sf) ground-level meeting room and event space can be partitioned into smaller rooms with sliding panels or opened up for a large event. A coffee shop is slated to open in the northeast corner of the lobby, with doors opening out onto a wood deck with built-in seating.
On the hotel's exterior, Wittman Estes worked with a neon sign shop to create a new sign visible from the southbound SR99 and surrounding neighborhood. At the hotel's now pedestrian-friendly corner, a new 111-m2 (1200-sf) hardwood ipe deck and event space open the hotel to the sidewalk, affording views north to the nearby Lower Queen Anne neighborhood, Gates Foundation headquarters, and the Space Needle. The entire lower level north façade of the building now features La Cantina folding doors which fully connect the event space to the outdoor deck.
"The key to hotel rooms is to balance art and commerce," said architect Matt Wittman. "We wanted to select materials that will last for a long time yet still bring a sense of luxury with them."
Working with the hotel owners to create a fresh and contemporary boutique hotel drawing from the original spirit of the midcentury modern architecture, Wittman Estes transformed the Civic Hotel to bring in sunlight, and a novel awareness of the surrounding neighborhood.