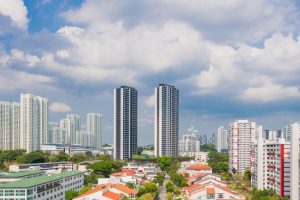 Construction is now complete on Clement Canopy, the world's tallest modular buildings. The 40-story tall towers are located in the heart of a residential and student district in western Singapore.
The 13,038-m2 (140,338-sf) Clement Canopy buildings consist of two 140-m (459-ft) high towers built in modular concrete. They include 505 apartments made with 1899 modules.
Construction company Bouygues Bâtiment International and modular construction laboratory Dragages Singapore used prefabricated and prefinished volumetric construction (PPVC) technology to build the structures. Modules were prefabricated in a factory. Most of the tradework was also installed before the modules were brought to the site for assembly.
The design process was developed with Dragages's in-house engineering team and ADDP Architects. Design was optimized to include modularization of floor plans, facilitation of offsite manufacturing, and the syntheses and coordination with building information modeling (BIM).
The manufacturing was divided into two steps: the module structures were precast on a yard in Senai, Malaysia, and technical and architectural works were carried out in a factory in Tuas, Singapore. The modules were then transported to the site where it is stacked as per the sequencing programme and to form its structure.