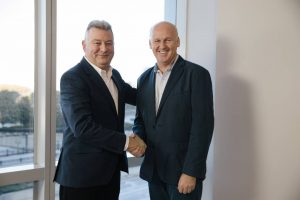 YKK AP America Inc., a manufacturer of commercial façade systems and residential doors and windows, has acquired Erie Architectural Products Group (Erie AP), a provider of high-performance façades solutions.
Increasingly tight schedules and rapid building close-ins along with a shortage of skilled labor have created a demand for fabricated, pre-assembled products, an area of specialization for Erie AP, and an area of focused growth for YKK AP.
"Through YKK AP's decade-long relationship as a supplier to Erie AP, we have learned the companies share tremendous synergy when it comes to our core values and customer and employee-centric philosophies," said Oliver Stepe, president of YKK AP America Inc.
"As we explored what was next for Erie AP and what would bring long-term stability and continued growth to our customers and employees, we knew we wanted to take on a strategic partner that could help take our company to the next level. A decade of experience in working with YKK AP affirmed our belief that it was the right partner, and the only partner, for Erie AP," highlighted Ron Stronks, president of Erie AP.
With the acquisition of Erie AP, YKK AP grows to well over 1000 employees in North America.