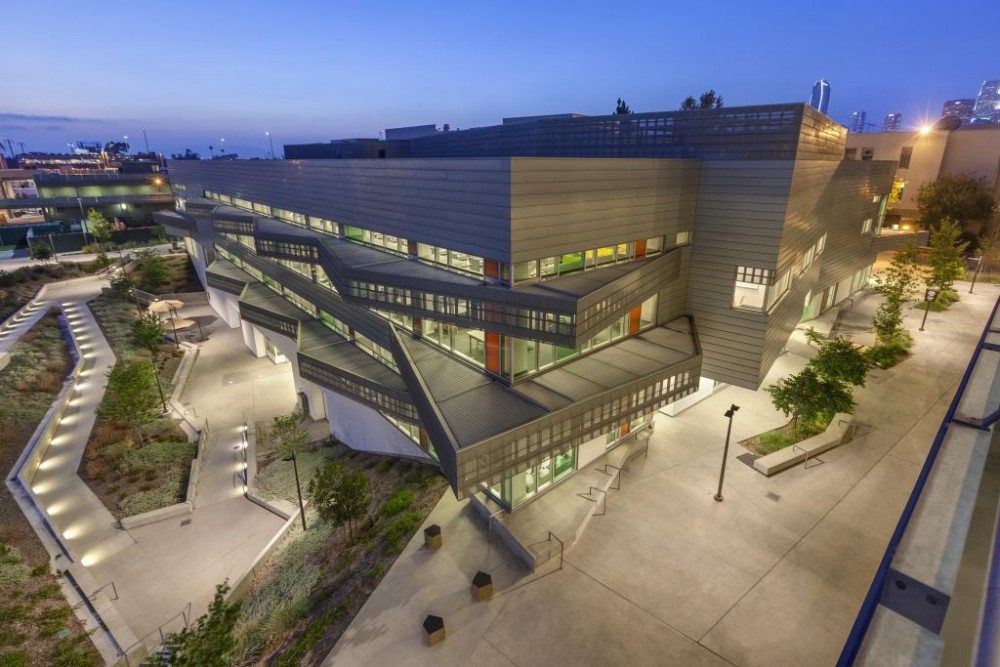 Los Angeles Trade Technical College (LATTC) recently completed a transformation of its Learning Resource Center to improve the facility's functionality and refresh its look as the campus' centerpiece.
Also known as Mariposa Hall, the building was stripped down to its structural grid, and upgraded to current code-compliance with new infrastructure systems installed throughout. Overall, the existing structure's usable space was increased from 7600 to 9290 m2 (81,807 to 100,000 sf).
To enhance the building's appearance, the façade was redesigned to better connect with its surroundings. Architectural design for the project was performed by Los Angeles-based Harley Ellis Devereaux who also provided mechanical/electrical/plumbing (MEP) and sustainability consultant services. The design team created a series of undulating panels that resemble 'ribbons' jutting out beyond the existing floor structure to identify entranceways, provide canopies and sunshades, and radiate an outward energy to the campus' four corners.
"There's basically no back side to the building," said project designer Michael Bulander. "So, that led to the idea of these 'ribbons' that would encompass the whole building."
Zinc was selected as the preferred metal for the project due to its organic character and slight finish variations as it develops over time. The building envelope uses 3158 m2 (34,000 sf) of 18 gauge/1.2-mm (0.04-in.) blue-gray interlocking metal panels.
The zinc reveal panels also have a variable width up to 25.4 mm (1 in.). With the flexibility of both vertical and horizontal installation, reveal panels offer designers freedom to implement architectural design concepts. The zinc titanium copper alloy provides longevity and an aesthetically pleasing appearance. With so many variations possible in its detailing, the design potential of the various zinc profiles complements both traditional and contemporary architecture.
The building also features various sustainable design elements. The Learning Resource Center renovation is on track to receive Leadership in Energy and Environmental Design (LEED) Gold certification. One of the main factors is the daylighting incorporated into the design that reduces energy consumption and the need for artificial lighting. The large atrium brings light into the building, and large windows on the north side also enable penetration of daylight. On the south side of the building, sunshades combined with interior light shelves reflect the natural light without causing glare. Skylights for the upper floors and light tubes for the lower also allow in natural light.
The building's interior is designed to expose building systems in order to serve as a 3D teaching tool. This is useful as many of the vocational and design classes are held in the Learning Resource Center. Other sustainability features include the reuse of an existing structure, renewable energy production through photovoltaics (PV), and the use of low-emitting volatile organic compound (VOC) materials.