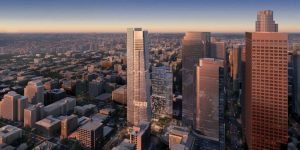 Angels Landing is a mixed-use project in Downtown Los Angeles (DTLA)'s Bunker Hill area, connecting the various neighborhoods converging at this location, including the Financial District, the Historic Core, the Cultural District and Civic Center, through distinct architectural expression.
The design for the project is by Handel Architects, while the client is the group of developers, The Peebles Corporation, MacFarlane Partners, and Claridge Properties. The 0.91-ha (2.26-acre) Bunker Hill site will feature two towers and a large public plaza space called Angels Terrace. The site lies opposite DTLA's landmark Grand Central Market and next to Angels Flight funicular railway. This development zone at 4th and Hill Streets formerly housed a temporary city park known as Angels Knoll and is directly adjacent to an entrance to the Pershing Square subway station, which would be incorporated into the development via Angels Terrace.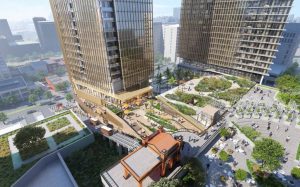 With a focus on architecture and landscaping, the design encourages the fluid movement of people into and through the site's many building lobbies, retail, storefronts, and plazas. The approach is based on several key factors: the re-interpretation of the arrival plaza at the Pershing Square Metro Station; enhancement of the pedestrian experience while riding the Angels Flight funicular railway; and creating a livelier pedestrian experience from California Plaza to its adjacent office buildings—a sunken public plaza lying amidst the two office towers, 1 Cal Plaza and 2Cal.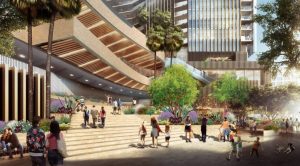 Plans include 432 residential units, two hotels, commercial space, and 4645 m2 (50,000 sf) of retail. The podium will be composed of a series of cantilevered floors and terraced levels gradually reaching upwards to California Plaza. The floorplate configurations will rise on several levels along the plaza to create unique spaces for circulation, planting, and gathering. The 42-story tower will be visually expressed through strong horizontal banding. The base of the taller tower is expressed by a similar horizontal expression, creating a dialogue between the two structures. Above, the banding on the tower turns vertical by using protruding vertical fins that appear as layered screens in front of a horizontal substructure, exposing balconies at the corners of the floor plates.