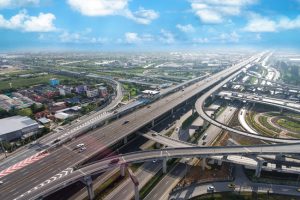 According to a report by the American Road & Transportation Builders Association (ARTBA), infrastructure projects of more than $9.6 billion have been delayed or canceled due to the COVID-19 pandemic.
While many projects continue as transportation construction is deemed essential, state and local governments and transportation authorities are beginning to feel the strain of declining revenues related to user fees and the overall slowdown in economic activity, ARTBA said. The immediate economic impact and potential job losses are difficult to quantify at this time, but each $1 billion in transportation construction investment supports an average of 13,000 jobs throughout all sectors of the economy, according to the Federal Highway Administration.
According to the report:
16 states have announced project delays or cancellations valued at nearly $5.01billion, including Florida, Georgia, Hawaii, Kentucky, Massachusetts, Mississippi, Missouri,Nevada, New Mexico, North Carolina, Ohio, Pennsylvania, Vermont, Washington, West Virginia, and Wyoming;
20 local governments and authorities that have announced project delays or cancellations of $4.54 billion;
10 states or local areas have vetoed, canceled, or postponed legislative initiatives or ballot measures related to transportation funding because of the pandemic, which includes several major initiatives in California self-help counties; and
at least 44 states, transportation authorities, and local governments have publicly projected declining revenues, which does not mean that transportation programs will be cut by the same amount but point to growing pressure on transportation-related revenue sources and state and local budgets.