FAILURES
Deborah Slaton, David S. Patterson, AIA
Occupants of a recently completed building reported localized peeling of wallcoverings from partition walls (primarily coinciding with the brick cladding/exterior curtain wall interface), as well as condensation on many interior surfaces during the cooling season.
Located in a warm, humid climate, the building features masonry cavity wall and curtain wall construction. A vinyl wallcovering had been installed over gypsum wallboard and on the interior face of the exterior wall assembly. Removal of the wallcovering from interior partitions adjacent the exterior wall revealed extensive organic growth on its back and on the surface of the interior gypsum finish. Similar organic growth was observed on the adjacent exterior wall, but to a lesser degree. The vinyl wallcovering applied to the exterior wall incorporated micro-perforations to make it more vapor-permeable, but this was not the case with the vinyl applied to partitions.
Further removal revealed corroded metal stud framing and significant organic growth on the inboard surface of the gypsum. Most significantly, the brick masonry cavity wall construction continued inboard of—and was not integral with—the adjacent curtain wall, creating a pathway for moist air within the exterior wall assembly to migrate directly to the building interior. In addition to infiltration of exterior air, this allowed bulk water within the brick masonry to bypass the curtain wall and enter the building interior during heavy rainfall.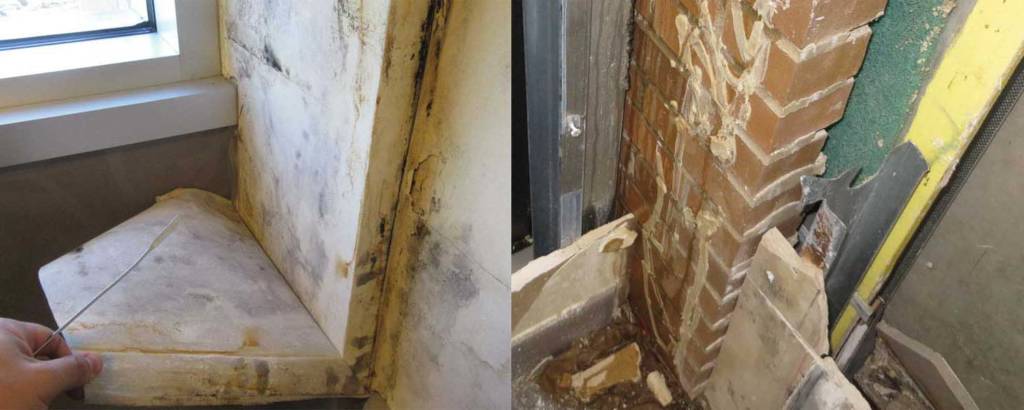 Exacerbating these conditions, the building was operating under negative pressure, drawing moist air into the building from the exterior wall cavity. Further, a linear diffuser located directly above the partition washed the wall with cold air during the cooling season, lowering the wall's temperature and thus increasing the potential for condensation within the wall assembly. Moisture within the partition was essentially trapped in the wall due to the presence of the impermeable vinyl wallcovering.
Masonry cavity walls are designed as drainage systems, and rely on proper detailing and cavity closures to convey water entering the wall system to the exterior. Brick Industry Association (BIA) Technical Note 7, Water Penetration Resistance−Design and Detailing and Technical Note 21B, Brick Masonry Cavity Walls–Detailing address benefits and design considerations for cavity wall construction, including recommended detailing of cavity seals at window heads, jambs, and sills.
The opinions expressed in Failures are based on the authors' experiences and do not necessarily reflect those of The Construction Specifier or CSI.
Deborah Slaton is an architectural conservator and principal with Wiss, Janney, Elstner Associates (WJE) in Northbrook, Illinois, specializing in historic preservation and materials conservation. She can be reached at dslaton@wje.com.
David S. Patterson, AIA, is an architect and senior principal with WJE's office
in Princeton, New Jersey. He specializes in investigation and repair of the building envelope. He can be reached at dpatterson@wje.com.