A lesson in creating the right ambience for a Utah school
by Erik Missio | July 15, 2016 10:23 am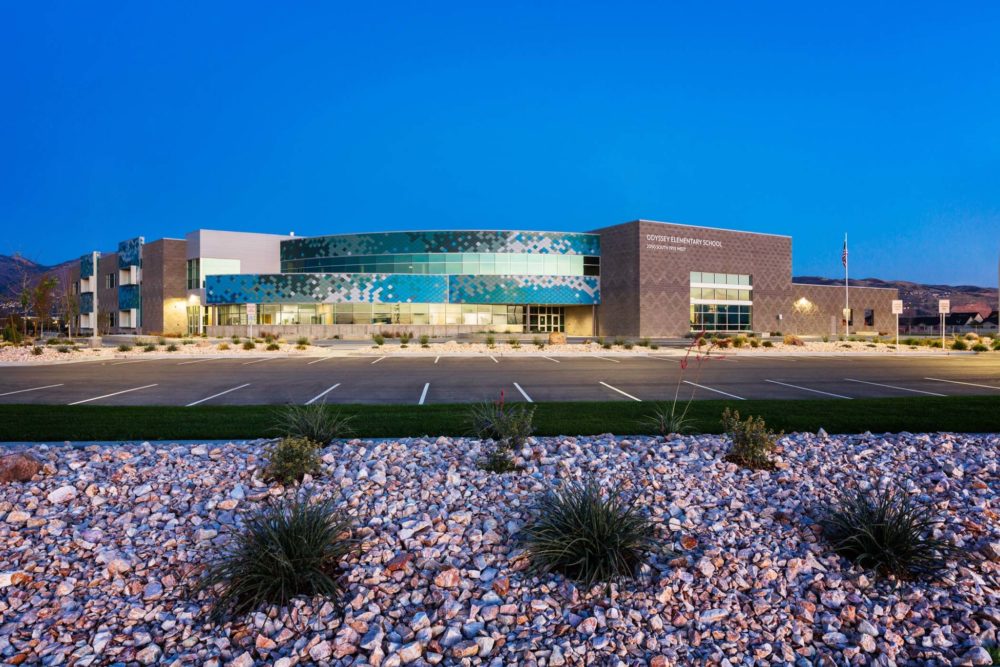 Natural lighting, 1200 solar panels, and the use of sustainable materials are some of the design features of a new school in Farmington, Utah.
Located in Davis School District, Odyssey Elementary School was also designed to obtain Gold certification under the Leadership in Energy and Environmental Design (LEED) program.
With older schools providing surroundings that may not be conducive to a productive teaching environment, the project presented an opportunity to create a space designed to encourage learning, starting with its colorful exterior.
Comprising two multi-story educational wings centered on a common dining area, the 7877-m2 (84,785-sf) school's most striking design feature is the exterior metal panel façade installed in two curving bands atop the building's main entrance. The design comprises proprietary diamond-shape flat metal roof shingles, featuring metal coating in grays, blues, and greens. The vibrant color and familiar shape evoke motion and are reminiscent of fish scales. They also reinforce the school's branding: "Bodies in Motion: the Animal Kingdom."
Combined with a patterned use of the coatings, the interlocking panels provide an 'energetic' aesthetic to the school, as well as a high-performance and durable design feature. In addition to being dirt- and stain-resistant, the panels help provide resistance to ultraviolet (UV) rays.
Since opening in 2014, Odyssey has given thousands of students in the Salt Lake City suburbs a state-of-the-art education facility housing a welcoming and effective teaching curriculum.
Source URL: https://www.constructionspecifier.com/a-lesson-in-creating-the-right-ambiance-for-a-utah-school/
---