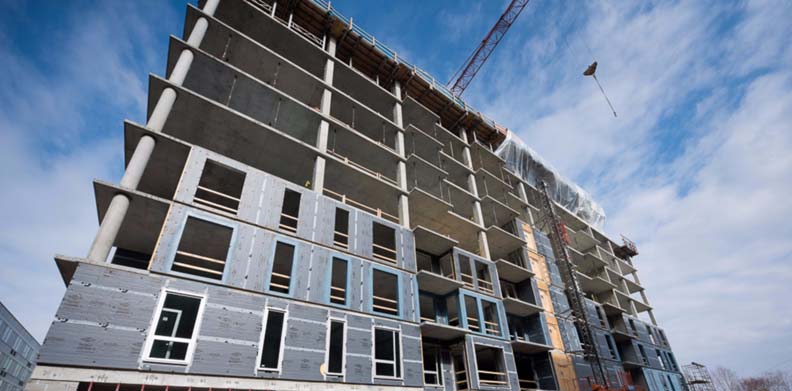 by Nick Scheib
The benefits of continuous insulation (ci) have been known by building scientists for decades. The biggest advantage the design strategy brings to buildings is its achievement of higher thermal efficiency than traditional construction methods—particularly in steel-framed construction.
As with most innovations in the building industry, continuous insulation did not gain traction overnight. Interest in using continuous insulation in steel-framed construction was minimal until the 2000s, when soaring building energy usage, combined with higher energy costs and declining natural resources, prompted changes to the energy codes. The spotlight was now on "insulation that is continuous across all structural members without thermal bridges other than fasteners and service openings."
Over the years, significant changes were made to the International Energy Conservation Code (IECC) and American Society of Heating, Refrigerating, and Air-conditioning Engineers (ASHRAE) 90.1, Energy Standard for Buildings Except Low-rise Residential Buildings, which increased R-value requirements for commercial buildings. Fiberglass batt insulation packed in between steel studs, which reduced the effective R-value of insulation due to thermal bridging, would no longer meet prescriptive code requirements.
The 2010 updates to ASHRAE 90.1 went further, cutting accepted building energy use by 30 percent from 2004. ASHRAE also recommended continuous insulation as a requirement in all climate zones and increased R-value requirements for metal buildings nationwide.
Using innovation to escape the quality/time/cost paradigm
Ultimately, the increasing emphasis on sustainability and energy efficiency had a huge impact on the construction industry. Materials manufacturers scrambled to develop products that would allow builders to meet and exceed the new codes. At the same time, they harnessed that momentum and used it to create innovative solutions.
The time-honored adage, "Necessity is the mother of invention," was never more true than the situation in which the industry found itself during the mid-2000s, trying to figure out how to attach cladding to continuous insulation without using metal Z-grids. This need fueled studies to understand how to properly attach claddings through continuous insulation.
Typically, continuous insulation is installed at greater thicknesses than conventional sheathing materials. Due to the cantilever effect, fastening patterns and methods had to be developed to support different cladding weights and types. To help further, innovations picked up, with the introduction of new multi-functional insulation systems that served as air, water, vapor, and thermal barriers, while reducing the overall thickness of the wall.
This multi-functional solution was capable of doing much more than improving the R-value. Besides stepping up building performance, such insulation systems can:
eliminate construction steps such as installing a membrane or building wrap;
increase the speed of construction;
decrease construction costs;
reduce the number of materials needed (e.g. batt insulation, gypsum board, air/water-resistive barriers); and
decrease energy consumption.
Crafting multi-functional insulation systems to serve as control layers removed several layers in the construction of the wall, resulting in a more sustainable wall assembly. These integrated wall systems have fewer components, simplifying the installation process even further. This is a major benefit for builders considering the ongoing—and growing—concern of a lack of skilled laborers.
Liquid flashing, which provides a better seal around punch openings such as windows and doors and seams or joints of substrates, was another innovation that improved the efficiency of continuous insulation systems. It takes less time to apply than traditional flashing methods, so it reduces installation time and labor costs. It can also seal better than traditional flashing methods, providing enhanced long-term building performance and creating a superior air and moisture barrier.
With the system improvements, insulation manufacturers showed they could troubleshoot issues on the fly. Now, many are beginning to look at an even bigger picture.