FAILURES
Deborah Slaton, David S. Patterson, AIA
Decades ago, abrasive cleaning of façades typically involved application of sand or aluminum oxide media against building walls at high pressures (i.e. 5516 kPa [800 psi] or more). Although such cleaning methods removed soiling from the wall surface, they also often significantly abraded the surface. In some cases, they removed surface detail, texture, or the glaze or outer surface from the masonry, exposing a less durable interior surface.
Damage from aggressive abrasion can:
render the masonry more vulnerable to water penetration/absorption (and, thus, cyclic freeze-thaw deterioration);
increase the surface area, which accelerates the rate of dirt accumulation; and
have a dramatic negative effect on appearance.
Additionally, the damage is typically irreversible.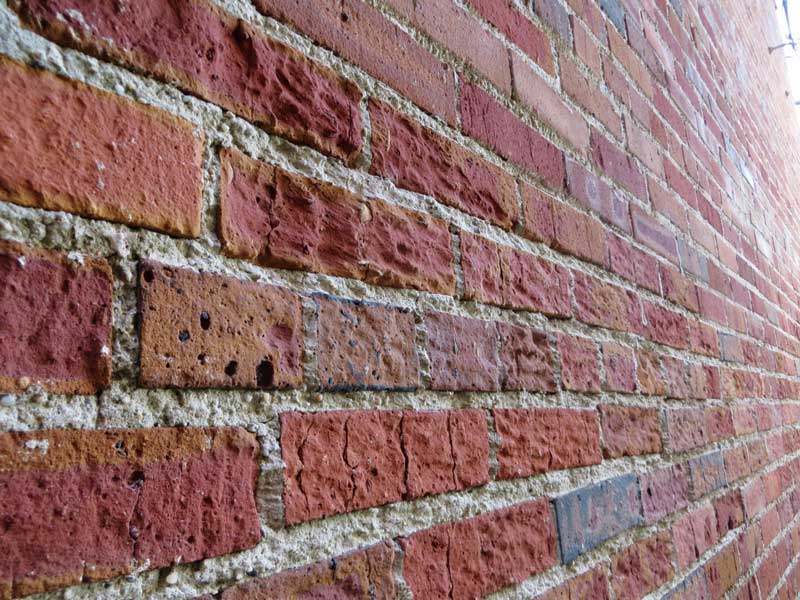 Abrasive cleaning techniques have evolved in recent years, with many alternatives to the high-pressure sandblasting once commonly used on brick masonry. These newer methods, often referred to as 'microabrasive' in reference to the very small particulates comprising the cleaning media, are usually much gentler than their traditional counterparts. They offer the opportunity to avoid the risks associated with chemical cleaning systems, although health, safety, and environmental issues must still be considered with any façade cleaning. Most microabrasive systems also limit the amount of water needed in the cleaning process.
Microabrasive cleaning systems generally use a variety of very fine particulates such as crushed glass, dolomite powder, plastic beads, or other materials varying in hardness, size, and shape. Pelletized carbon dioxide systems, originally developed for industrial use in cleaning metal equipment, are also used. Depending on the system, the microabrasive media are applied either wet or dry, with some employing a proprietary nozzle. The systems are typically used at very low pressures (e.g. 70 to 345 kPa [10 to 50 psi]). Some also provide for containment of debris and cleaning media, and for the recycling or reuse of the media.
Selection of an appropriate microabrasive cleaning technique should consider the nature of substrate and soiling, goals of the cleaning process, and features of the system (e.g. media, application pressures, and whether the system is wet or dry). Options for containment of media, dust, and debris (and possible recycling of the media) should also be taken into account. Some systems offer training or certification of the applicator, providing an additional measure of quality control.
Microabrasive systems are generally much gentler than abrasive processes like sandblasting. In many cases, they can remove soiling without damage to the substrate. However, their success depends not only on ensuring proper selection/specification and applicator skill, but also on trial samples to evaluate the effectiveness before  implementation of the overall work.
(Although not considered a microabrasive technique, lasers used for sculpture-cleaning are now being applied to masonry façades, especially stone sculptural elements.)
The opinions expressed in Failures are based on the authors' experiences and do not necessarily reflect those of The Construction Specifier or CSI.
Deborah Slaton is an architectural conservator and principal with Wiss, Janney, Elstner Associates (WJE) in Northbrook, Illinois, specializing in historic preservation and materials conservation. She can be reached at dslaton@wje.com.
David S. Patterson, AIA, is an architect and senior principal with the Princeton, New Jersey, office of WJE, specializing in investigation and repair of the building envelope. He can be reached at dpatterson@wje.com.