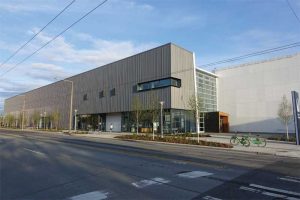 by Ryan Martin
Maximizing energy efficiency is the order of the day for construction industry professionals across North America, due, in part, to changing codes and a growing contingent of forward-thinking developers, owners, architects, specifiers, and energy consultants. Education and awareness continue the drive toward higher performance building envelopes, which is prompting greater consideration of insulation levels, R-value, airtightness, vapor diffusion, condensation control, acoustics, and more. As a result, more thought is now invested in material selection and whole system performance.
Stone wool is a fibrous insulation that is created by predominantly melting rock. It is manufactured into various forms, including batts and rigid boards, to work across multiple applications. It differs from slag wool, which is a manmade material made primarily from iron ore blast furnace slag. Some stone wool rigid insulation boards are categorized under Type IVB Compliance, per ASTM C612, Standard Specification for Mineral Fiber Block and Board Thermal Insulation. Some mineral fiber blocks and thermal insulation boards also pass compliance tests for ASTM C665, Standard Specification for Mineral-fiber Blanket Thermal Insulation for Light Frame Construction and Manufactured Housing (corrosion of steel). The good news for construction industry professionals is that with options like stone wool rigid insulation, design does not have to be sacrificed to meet the demands for increased performance. In fact, stone wool has emerged as an advantageous solution, gaining traction because of its versatility and performance.
Continuous exterior insulation
The reasoning for the specification of stone wool rigid insulation boards is as multifaceted as their applications. These insulation boards contribute to key project goals, such as energy efficiency, moisture management, fire protection, sound control, building resilience, and sustainability. Stone wool rigid insulation boards provide proven performance for both commercial and residential projects in applications such as continuous exterior insulation, given its stable R-value and contribution to a building's safety, comfort, and durability. Many contractors also prefer the material due to its ease of handling and installation, whether the latter occurs on the jobsite or in controlled environments (e.g. prefabricated panels).
Energy codes are increasingly demanding continuous exterior insulation on commercial buildings because they account for approximately 40 percent of all energy consumption. Continuous exterior wall insulation is a requirement of the International Energy Conservation Code (IECC) for all climate zones using metal-framed, above-grade walls, and within the International Residential Code (IRC) in climate zones 6 and above for wood-framed walls. Continuous insulation (ci) is an effective practice for reducing heat transfer. It helps to reduce heat transfer and thermal bridging, and create a more comfortable indoor environment for occupants.
Safe, sustainable design
The architect and builder of the Origine Tall Wood condominium tower on the banks of the Saint-Charles river in Québec City, Québec, Canada, selected continuous stone wool rigid board insulation for the building's exterior envelope. Origine is a 13-story, 92-unit residential tower built by Québec-based Nordic Structures and is one of the tallest wood buildings in North America. The design objective was to use sustainably harvested wood for this environmentally responsible complex to reduce greenhouse gas (GHG) emissions. However, building with wood can present a number of challenges, including protection from fire and moisture.
Built on a concrete podium, the tower boasts solid wood construction, predominantly glue-laminated timber (glulam)—for posts and columns—and cross-laminated timber (CLT). Since the structure mostly comprises wood, the design team specified stone wool rigid insulation boards to meet fire protection requirements. A wood building of this height made fire safety a top concern, particularly since Origine would be laying the groundwork for future tall wood buildings. The project was extensively fire-tested with mockups at the National Research Council in Ottawa, Ontario, Canada. The tests showed Origine's building envelope, incorporating noncombustible stone wool insulation, could meet and even exceed existing fire safety standards. While proving CLT holds up adequately in the event of a fire, the passive fire protection provided by the stone wool insulation was an important safety element built into the structure. In fact, the noncombustible nature of stone wool made it the first choice in this application.
Stone wool insulation can resist fire up to 1177 C (2150 F) without the need for chemical flame retardants. In addition to fire protection and energy efficiency, stone wool was specified on this project for the vapor permeance, dimensional stability, acoustical properties, and ultraviolet (UV) resistance of the insulating material. With its location (on the banks of a river) and Québec's harsh climate, the drainage capabilities and water-resistant properties of stone wool proved advantageous. The insulation also complemented Origine's sustainability profile since the products are made of highly sustainable raw materials and recycled content. The Origine project has achieved Leadership in Energy and Environmental Design-New Construction (LEED-NC) Silver certification.