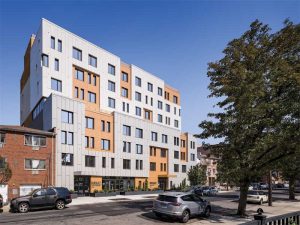 Energy efficiency and fire protection
A multi-use building, the HANAC Seniors Residence and school in Corona, New York, also had specific design goals to achieve strict sustainability targets. HANAC is one of the first affordable senior housing developments in the United States to meet the Passive House Institute's design standards. Designed by Think! Architecture + Design and constructed by Bruno Frustaci Contracting, Inc., the eight-story, $36-million building spans 5358 m2 (57,675 sf). It houses 68 affordable units geared to low-income seniors on floors two through eight, while the first floor serves the community as a 465-m2 (5000-sf) early childhood education facility.
Beneath the ventilated façade of the building is continuous exterior insulation using stone wool rigid insulation boards. Stone wool boards were chosen to optimize energy performance because of their high R-values that remain steady over time, and the need for minimal penetrations and thermal bridges. The boards along with stone wool batts, which were installed throughout the building's exterior cavity walls and partition walls, contribute to a more stable indoor environment. Creating a well-insulated building was not only an important Passive House measure, but also an essential consideration given the building's occupants—largely seniors and young children. Designers were sensitive to the vulnerability of the occupants. Thus, the decision to use noncombustible stone wool insulation supported a variety of key objectives, including passive fire protection, sound attenuation, and indoor air quality (IAQ)—all expected to impact the well-being of those who use the space.
Design freedom and high performance
Design freedom was essential to the team constructing the Nordic Museum in Seattle, Washington. The museum project's overarching goal was to connect the new structure—in modern design and function—to its cultural roots and building principles. The museum houses a climate-controlled collection, exhibit spaces, a concert hall, meeting rooms, outdoor spaces, a café, and gift shop. Given its connection to the Nordic region, it was important for the building to be not only beautiful and reflect the modern design sensibilities of that region, but also embrace and reflect the Nordic principles of efficiency, comfort, economy, and effective use of natural light.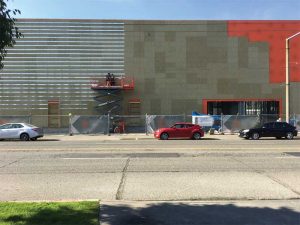 To create an efficient building that consumes less energy and contributes less GHG emissions, the architectural and design team focused on creating a tight, high-performance building envelope. The wall assembly comprises 16 mm (5/8 in.) interior gypsum wall board, Division 5 metal stud framing, 16-mm sheathing, a water-resistive barrier, and 64 mm (2 ½ in.) of stone wool rigid insulation boards. Finally, the building's exterior was clad with a vertically striated zinc skin. Stone wool provided high-performance benefits, and its Danish roots complemented the museum's purpose and cultural connection.
The robustness and durability of the stone wool boards were important to designers since they can withstand harsh conditions because of their dimensional stability, water resistance, effective drying potential (vapor permeability), and superior thermal resistance. The rigidity of the material allowed efficient install, and helped contractors achieve zero gaps or sagging for a tighter building envelope that would stand the test of time. Stone wool's fire safety profile was also key to its selection, as the museum houses very priceless and culturally significant artifacts.
Fire safety was also a top priority of the Mira Condominium Tower project in San Francisco. The 39-story tall residential skyscraper was developed by Tishman Speyer and designed by Studio Gang Architects. The 129-m (422-ft) tall building offers a unique visual profile and design aesthetic in the heart of the city. Twisting incrementally over the height of the tower, its bays, modeled after the bay windows that were typical of the early San Francisco homes, have converted every residence into a corner unit, and provide ample views, natural light, and fresh air.
Due to this complex design and twisting bays, the building required a sophisticated wall system that would also satisfy the demands for fire protection and moisture management. The latter was a critical consideration because the incomplete exterior of the building would be exposed to the elements for some time during installation. Careful attention was required during the installation of the stone wool continuous exterior insulation, with particular care paid to gaps, penetrations, seams, and other detailing. Stone wool rigid insulation boards were selected to satisfy those demands and other performance objectives since, as mentioned earlier, stone wool offers excellent dimensional stability, high drying potential, superior energy efficiency, and sound control, as well as durability, fire resilience, and sustainability. Thermal efficiency and sustainability were equally important performance requirements in the design and construction of the tower, as the team managed to exceed California's Title 24 energy standards.