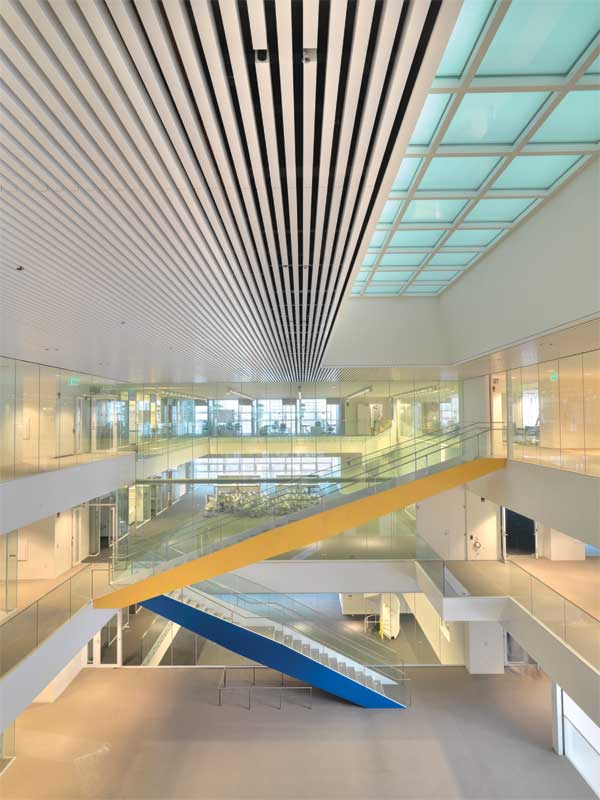 A student success center's design statement
Another project using a fire-rated glass floor system beyond conventional design standards is the Student Success Center at Christopher Newport University in Newport News, Virginia.
The original project design by Glavé & Holmes Architecture called for clear sightlines stemming from the main landing on the second floor of the student success center to the oculus 33 m (110 ft) above. However, the fire-exhaust system required in the atrium proved cost prohibitive. Forced to think beyond traditional building methods, the firm landed on a 4.5-m (15-ft) diameter fire-rated glass floor system. It acts as a code-approved fire barrier and viewing portal in a highly visible, design sensitive area—a duality crucial to the project's success.
The fire-rated glass floor system not only provides critical defense against the spread of flames, smoke, and heat, but also sets off the building's crowning dome. The stunning circular assembly features an outer and an inner ring with 12 glass sections. A solid inner 'doughnut' directs the eye through the fourth floor to the building's distinctive dome. Transparent glass panels allow light to stream through the glass sections to the lower levels, adding depth and dimension to the optical environment. Aesthetically, the fire-rated glass floor system has been designed to emulate a mullioned window, fusing the university's classical and contemporary design themes.
In addition to enabling views to the dome, the fire-rated glass floor system is suitable for high traffic pedestrian levels in the frequently used student center. Its textured, top-surface glass provides students and faculty with the necessary traction to walk across its surface without slipping, helping maximize usable walking space. As an added benefit, the fire-rated glass floor system incorporates switchable privacy glass on the walkable surface. With the flip of an electric switch, it becomes translucent to provide privacy during large events.
In practice
There are numerous ways design teams can employ fire-rated glass floor systems to improve light transfer, visibility, and aesthetics in horizontal separations with strict fire and life safety requirements. To use the assembly to its full potential, one should keep in mind the following considerations during the specification process.
Use surface treatments
In order to go beyond daylighting and make a powerful design statement underfoot, fire-rated glass floor systems are available with a variety of glass floor color and texturing options. One popular option is to use ceramic frits, which are melded to the glass surface, thereby creating visually engaging and bold design statements suitable for large glazed sections. For a more custom look, floors can feature one color, or even vibrant, alternating patterns. It is also possible to apply lettering, logos, and other decorative patterns in the form of decals or custom painting.
To ensure a fire-rated glass floor system's slip-resistance is suitable to its location and has an appropriate Dynamic Coefficient of Friction (DCOF), particularly for indoor wet areas, it is important to engage the manufacturer or supplier early during the design process. They can point design firms to walking surface solutions, like anti-slip acid-etched glass, that provide a coefficient of friction, calculated in accordance with ANSI A137.1:2012 Section 9.6, Procedure for Dynamic Coefficient of Friction (DCOF).
Incorporate interlayers
In addition to surface treatments, fire-rated glass floor systems are available with various interlayers. These can further enhance the visual impact of the floor, add color, or create greater visual obscurity. For example, by varying the level of opacity, design teams can play with light, enhancing visual depth and engagement. To evaluate how various interlayers affect a fire-rated glass floor system's light transmission, consider engaging the walking surface manufacturer or supplier. Many can provide specifications to indicate an interlayer's visible light transmittance.
On a practical level, it is ideal to use more obscure interlayers for floors where modesty is a concern, including those where people are directly visible to individuals on lower levels.