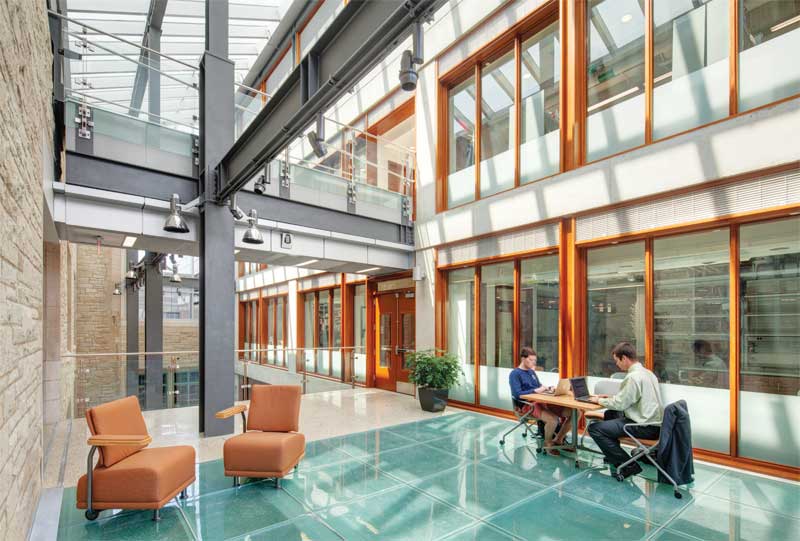 Add backlighting
The benefits of fire-rated glass floor systems are not just limited to the daytime. Through strategic backlighting, films, and frits, design teams can turn these light portals into elegant design statements by night. For example, to achieve
a backlit appearance, the project team can install lights in the ceiling below the system. This allows for light transfer by day, but, at night, the glazed floor surface is illuminated.
Think geometrical
While fire-rated glass floor systems meet a complex set of performance requirements, they are not restricted to simple installation configurations. It is possible to install them in circular orientations, as well as vary the geometry of glass floor slabs. One should contact the manufacturer or supplier early during the design process to see what configurations are possible.
Varied sizes
Fire-rated glass floor systems do not have to be expansive to be effective. A popular daylighting alternative is to employ individual glass floor slabs. These small portals in corridors or gathering areas can admit light to interior spaces in a more limited manner. This was done effectively in the remodel of La Crema Estate at Saralee's Vineyard in Windsor, California. Brayton Hughes Design Studio chose to line the perimeter of the main staircase with fire-rated glass floor system segments. The innovative configuration allows the system to draw light from the upper level down to the ground floor while providing critical fire resistance.
In general, individual glass panel sizes for modular systems are approximately 1210 mm (48 in.) by 1270 mm (50 in.). They can be used individually or together to create expansive configurations. If designs call for glass floor slabs in smaller or larger panels, one should contact the manufacturer or supplier to see what is possible.
Conclusion
More buildings with stunning glass floors are announced each year. As technology continues to evolve, a growing number will feature fire-rated glazed floor systems. In order to stay ahead of this trend and learn how to use the material to its full potential, design professionals should contact manufacturers for the latest material specifications. Correct use of fire-rated glass floor systems in structures hinges on codes, performance characteristics, aesthetic goals, and other contributing factors.
 FIRE-RATED GLASS FLOOR SYSTEM CHECKLIST
Although there are many factors to consider when it comes to fire-rated glass floor systems, the following checklist can help guide proper specification.

1. Check for adequate fire protection
Before specifying a fire-rated glass floor system, it is important to ensure a third-party testing agency, such as Underwriters Laboratories (UL), has evaluated it in accordance with ASTM E119, Standard Methods for Fire Tests of Building Construction and Materials, National Fire Protection Association (NFPA) 251, Standard Methods of Tests of Fire Resistance of Building Construction and Materials, and UL 263, Fire Tests of Building Construction and Materials. This step helps ensure the floor system provides the necessary fire safety and structural integrity.

2. Verify load requirements
While the architect or structural engineer is responsible for calculating a fire-rated glass floor system's load requirements, it is crucial to verify the specified product could meet these predetermined standards. Where questions arise, manufacturers and suppliers can aid in providing the necessary product information.

3. Consider impact safety
Another important step is to consider a fire-rated glass floor system's impact safety. Surface damage from heavy foot traffic or long-term wear can reduce its load-carrying capacity. As a result, when specifying fire-rated glass floor systems in lobbies, common areas, and other heavily used rooms, one should consider selecting a system that can incorporate protective treatments. Fire-rated glass floor systems with a walking surface separate from the structural layer also make it easier for glaziers to replace the individual surface panels if they are damaged.

4. Account for slip resistance
Occupational Safety and Health Administration's (OSHA's) minimum requirement for slip resistance is a static coefficient of friction of 0.50. Since this is a general standard, care should be taken to ensure a fire-rated glass floor system's slip resistance is suitable to its location. For example, a fire-rated glass floor system in a study area may have different slip resistance needs than one near an entryway, where people might track water across its surface. Manufacturers or suppliers offer a variety of surface treatments to improve traction, including embossed glass, cast glass, and ceramic frit texturing Design teams can work with them to identify which solutions have a coefficient of friction that has been calculated in accordance with the requirements of ANSI A137.1:2012 Section 9.6, Procedure for Dynamic Coefficient of Friction (DCOF).

5. Consider aesthetics
Glass floor color and texturing options are available to support aesthetic goals while maintaining adequate slip resistance and daylight admission. Along with surface treatments, various interlayers can be incorporated to further enhance the visual impact of the floor, add color, or create greater visual obscurity.
Jeff Razwick is the president of Technical Glass Products, a supplier of fire-rated glass and framing systems, and other specialty architectural glazing. He writes frequently about the design and specification of glazing for institutional and commercial buildings. Razwick is a past-chair of the Glass Association of North America's (GANA) Fire-Rated Glazing Council (FRGC). He can be contacted via e-mail at jeffr@fireglass.com.