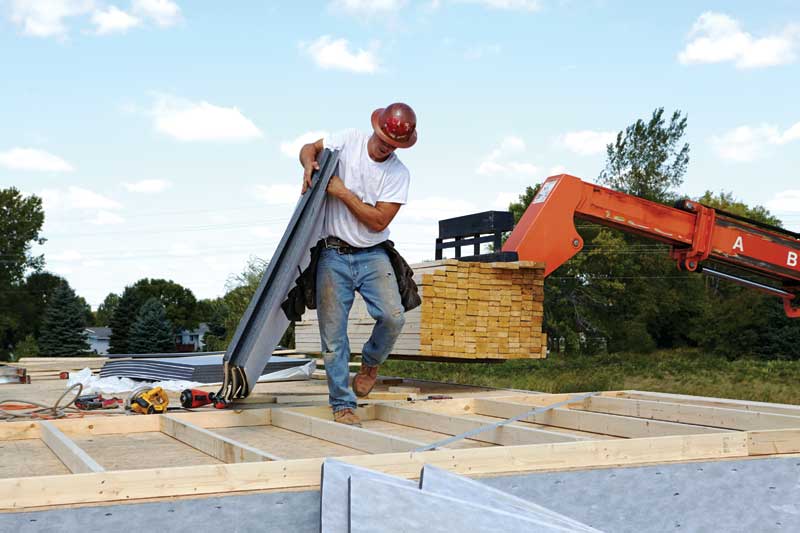 Specification factors
Given the wide range of rigid foam insulations already available, design/construction professionals may naturally be wondering what needs GPS fulfills. To help specifiers evaluate insulation options, the following section offers an overview of the material's benefits versus costs as well as its applications and limitations.
Benefits versus costs
Generally speaking, GPS is priced approximately 15 percent higher than EPS, and is typically lower in price than XPS. In addition to its higher R-value and breathability advantages, by achieving the same R-value with less material, GPS can help save from 10 to 25 percent on material costs compared to XPS insulations.
GPS also lowers shipping costs and speeds installation times, as it reduces the need to build up layers of individual sheets to achieve a given R-value.
Panel sizes
Commonly available sizes of GPS insulation panels are:
unfaced products: 1.2 x 2.4 m (4 x 8 ft), 0.6 x 2.4 m (2 x 8 ft), and 0.6 x 1.2 m (2 x 4 ft); and
faced products: 1.2 x 2.4 m (4 x 8 ft) and 1.2 x 2.7 m (4 x 9 ft).
Applications and limitations on use
Throughout the building envelope, GPS insulation can be used in applications where EPS and XPS are commonly specified. Example wall applications for GPS include:
wall sheathing systems;
continuous insulation (ci);
exterior insulation and finishing systems (EIFS) and stucco systems;
precast or tilt-up concrete walls;
retrofit/remodeling applications; and
structural insulated panels (SIPs).
The only restriction for GPS is in high temperature applications—that is, those exceeding 79.4 C (175 F).
While GPS insulations can be directly applied to a range of sheathing types, it is important to confirm installation details with the product manufacturer, and to check local code requirements. Examples of acceptable sheathings for GPS insulation include:
various proprietary glass mat gypsum substrates produce in accordance with ASTM C1177, Standard Specification for Glass Mat Gypsum Substrate for Use as Sheathing;
certain proprietary cement-boards;
untreated exposure I or exterior plywood;
untreated exposure I oriented strand board (OSB);
gypsum sheathing; and
poured concrete/unit masonry.
Certain adhesive and sealant solvents attack GPS rigid insulation, including esters, ketones, ethers, along with aromatic and aliphatic hydrocarbons (and their emulsions). One should confirm allowable adhesives with the insulation manufacturer.
Conclusion
Construction specifiers have an extensive array of products to choose from to provide high thermal performance in buildings. With the introduction of GPS insulation, they have another option, which allows for required R-values in thinner wall assemblies.
Michael McAuley is the president of Insulfoam, and has more than 20 years of experience in building material sales and production management, including 14 years at Insulfoam's sister company, Versico Roofing Systems, as the national sales manager and general manager. He can be reached at michael.mcauley@insulfoam.com.