Advances in rigid thermal insulation
June 3, 2016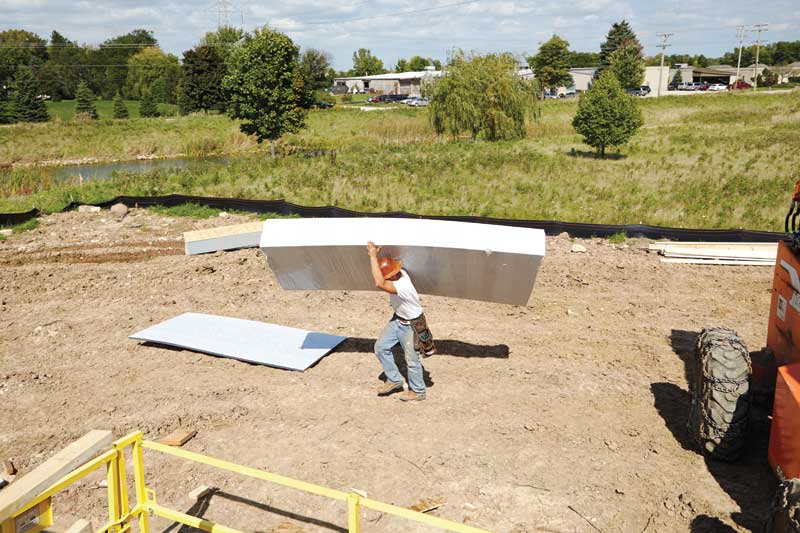 by Michael McAuley
Plastic foams for thermal insulation have been available for more than 70 years. Extruded polystyrene (XPS) was introduced in 1943, followed by expanded polystyrene (EPS) in 1950, and polyisocyanurate (polyiso) in 1954. (For more information, see Dávid Bozsaky's "The Historical Development of Thermal Insulation Materials" at periodicapolytechnica.org[1]). Over the years, manufacturers have expanded these basic foams into a range of faced and un-faced products, with numerous options including fanfold bundles, composite panels, and specialty insulations with built-in drainage channels. Recently, a new class of rigid foam has become available: graphite polystyrene (GPS).
To further boost the thermal performance of EPS insulation, GPS integrates high-purity graphite throughout the EPS polymer matrix (insulation bead). With graphite being the most thermodynamically stable form of carbon, GPS achieves impressive thermal properties when the bead is expanded with air (not a chemical reaction) into a solid rigid insulation. (See "Chemistry in Its Element: Carbon," an interview with Katherine Holt posted on the Royal Society of Chemistry website at www.rsc.org[2]).
The addition of the graphite results in an insulation that can provide the same or greater R-values as EPS, but in a thinner product. This makes GPS insulation suitable for use in space-constrained areas and in colder climates. Another benefit is the graphite in GPS insulation enhances the material's R-value as temperatures decrease.
In the same way XPS products are recognized by a range of primary colors, GPS is readily distinguished by its gray/platinum hue.
GPS performance attributes
While its chemistry starts with an EPS-based product, GPS insulation expands on EPS performance in two primary ways: R-value and water absorption. These factors, and other specification criteria for GPS, are discussed in the paragraphs that follow.
R-value
The graphite in GPS reflects radiant heat energy, which can enhance the insulation's R-value as the temperature decreases. The R-values for GPS range from 4.7 to 4.9 per 25 mm (1 in.) of thickness at 24 C (75 F) and from 5.1 to 5.2 per 25 mm (1 in.) of thickness at −4 C (25 F), as shown in Figure 1.
As a result, GPS works well in space-constrained areas in commercial buildings, such as in cavity walls and for exterior sheathing applications.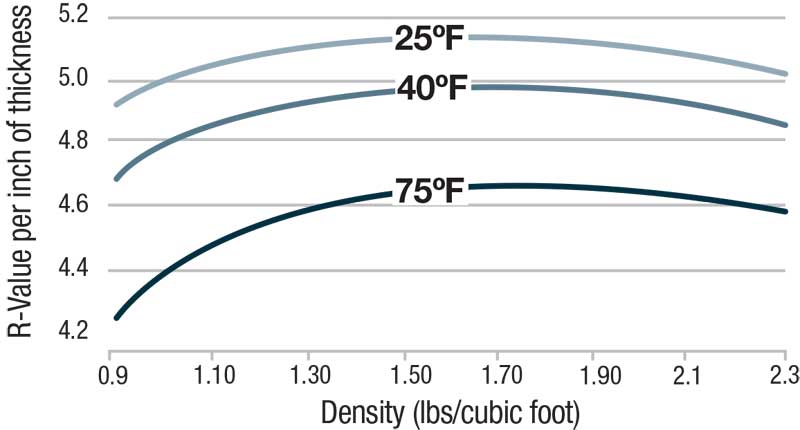 Similar to EPS, various manufacturers produce GPS with blowing agents that do not diffuse during the insulation's time in service, so the insulation does not experience thermal loss as do some rigid insulations. Consequently, the R-value at time of installation is what will be provided years later—this is very important for long-term energy savings in buildings.
Breathability and moisture absorption
Compared to some thermal insulations that retain moisture, GPS is vapor-permeable, making it a breathable material. Since water vapor can pass through GPS, the insulation readily releases moisture from walls and foundations. This not only ensures thermal performance for the insulation, but it also helps reduce the potential for any moisture degradation of structural elements.
EPS dries quickly and has minimal long-term moisture retention, and the graphite in GPS further enhances this moisture performance. GPS absorbs one percent (or less) moisture by volume compared to approximately five percent for EPS and up to 19 percent for XPS.
Compressive strength
GPS insulation has similar compressive strength values as EPS, as the graphite does not change the material's compressive resistance. For commonly available GPS products, compressive strength ranges from 69 to 228 kPa (10 to 33 psi) at 10 percent deformation, which is suitable for a wide range of building envelope applications.
Flexural strength
Similar to compressive strength, the graphite in GPS does not alter flexural strength compared to EPS. The typical flexural strength range is 172 to 483 kPa (25 to 70 psi), depending on the product type. Similar to EPS, GPS performs well at being handled during installation without being damaged.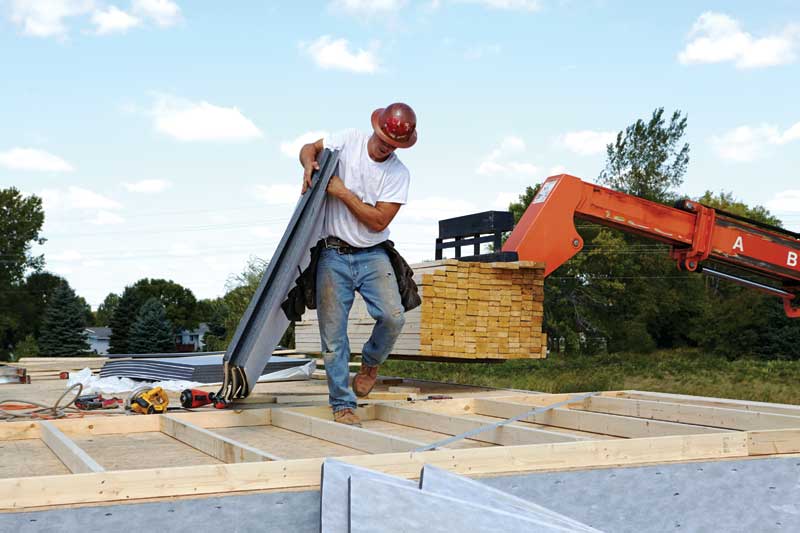 Specification factors
Given the wide range of rigid foam insulations already available, design/construction professionals may naturally be wondering what needs GPS fulfills. To help specifiers evaluate insulation options, the following section offers an overview of the material's benefits versus costs as well as its applications and limitations.
Benefits versus costs
Generally speaking, GPS is priced approximately 15 percent higher than EPS, and is typically lower in price than XPS. In addition to its higher R-value and breathability advantages, by achieving the same R-value with less material, GPS can help save from 10 to 25 percent on material costs compared to XPS insulations.
GPS also lowers shipping costs and speeds installation times, as it reduces the need to build up layers of individual sheets to achieve a given R-value.
Panel sizes
Commonly available sizes of GPS insulation panels are:
unfaced products: 1.2 x 2.4 m (4 x 8 ft), 0.6 x 2.4 m (2 x 8 ft), and 0.6 x 1.2 m (2 x 4 ft); and
faced products: 1.2 x 2.4 m (4 x 8 ft) and 1.2 x 2.7 m (4 x 9 ft).
Applications and limitations on use
Throughout the building envelope, GPS insulation can be used in applications where EPS and XPS are commonly specified. Example wall applications for GPS include:
wall sheathing systems;
continuous insulation (ci);
exterior insulation and finishing systems (EIFS) and stucco systems;
precast or tilt-up concrete walls;
retrofit/remodeling applications; and
structural insulated panels (SIPs).
The only restriction for GPS is in high temperature applications—that is, those exceeding 79.4 C (175 F).
While GPS insulations can be directly applied to a range of sheathing types, it is important to confirm installation details with the product manufacturer, and to check local code requirements. Examples of acceptable sheathings for GPS insulation include:
various proprietary glass mat gypsum substrates produce in accordance with ASTM C1177, Standard Specification for Glass Mat Gypsum Substrate for Use as Sheathing;
certain proprietary cement-boards;
untreated exposure I or exterior plywood;
untreated exposure I oriented strand board (OSB);
gypsum sheathing; and
poured concrete/unit masonry.
Certain adhesive and sealant solvents attack GPS rigid insulation, including esters, ketones, ethers, along with aromatic and aliphatic hydrocarbons (and their emulsions). One should confirm allowable adhesives with the insulation manufacturer.
Conclusion
Construction specifiers have an extensive array of products to choose from to provide high thermal performance in buildings. With the introduction of GPS insulation, they have another option, which allows for required R-values in thinner wall assemblies.
Michael McAuley is the president of Insulfoam, and has more than 20 years of experience in building material sales and production management, including 14 years at Insulfoam's sister company, Versico Roofing Systems, as the national sales manager and general manager. He can be reached at michael.mcauley@insulfoam.com[3].
Endnotes:
periodicapolytechnica.org: http://periodicapolytechnica.org
www.rsc.org: http://www.rsc.org
michael.mcauley@insulfoam.com: mailto:michael.mcauley@insulfoam.com
Source URL: https://www.constructionspecifier.com/advances-in-rigid-thermal-insulation/
---