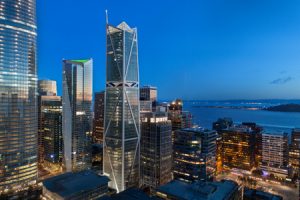 The 181 Fremont St. tower in San Francisco, California, has won the American Institute of Steel Construction's (AISC's) award in the projects greater than $75 million category.
AISC recognized 13 structural steel projects in the 2019 Innovative Design in Engineering and Architecture with Structural Steel awards program (IDEAS2). The award acknowledges excellence and innovation in the use of structural steel on building projects across the country.
Conducted annually, it is the highest honor given to building projects by the structural steel industry. The winners were chosen from more than 100 submissions received from architectural, engineering, and construction firms (AEC).
Each project was judged on its use of structural steel from an architectural and structural engineering perspective, with an emphasis on:
creative solutions to the project's program requirements;
applications of innovative design approaches in areas such as connections, gravity systems, lateral load resisting systems, fire protection, and blast;
aesthetic and visual impact of the project;
innovative use of architecturally exposed structural steel (AESS);
technical or architectural advances in the use of the steel; and
the use of innovative design and construction methods.
A panel of design and construction industry professionals identified national and merit winners in three categories, based on total constructed value:
projects greater than $75 million;
projects $15 million to $75 million; and
projects less than $15 million.
Additionally, the panel awarded a Sculpture/Installation/Non-Building Structure Award, and Presidential Awards for Excellence in Fabrication and Erection Engineering to Facilitate Adaptive Reuse.
The other 2019 award-winning projects in the greater than $75 million category are:
National Award—Superior Court of California (San Diego, California); and
Merit Award—LondonHouse Hotel, (Chicago, Illinois).
For more information on the other awards, click here. The winning projects and their respective team members will be recognized at the 2019 NASCC: The Steel Conference, next month in St. Louis, Missouri.