by Mike Fischer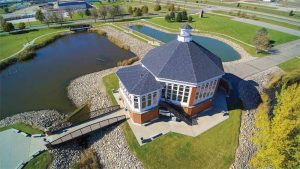 Construction specifiers are expected to provide a high level of service to building owners by recommending products best suited to meet the aesthetic criteria of a particular project. To compete effectively for projects using steep-slope roofing, a professional specifier should be well-versed in one of North America's most popular roofing choices: asphalt shingles.
On a job-by-job basis, architects and specifiers need to listen carefully to what owners (both commercial and residential) want and need, and share their expertise by identifying, recommending, and delivering products to satisfy those requirements.
In today's marketplace, owners should feel they can trust the specifier for consultation on the benefits and disadvantages of a roofing system to determine how to add protection, beauty, and value to a building.
Teaching the benefits and disadvantages of a roofing system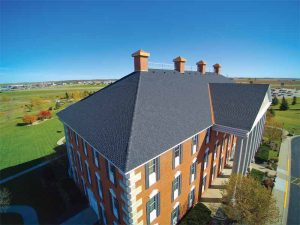 The first responsibility of a specifier is to ensure the owner possesses the information needed to make an informed decision. Some owners may know nothing about roofing and depend on the specifier for insight.
Fire
Asphalt shingles are specifically manufactured to comply with ASTM International and/or Underwriters Laboratories (UL) standards for fire resistance (ASTM E108/UL790, Standard Test Methods for Fire Tests of Roof Coverings, Class A, B, or C). Class A fire resistance is the top rating. External-source fires—such as those started by sparks spewed into the air from an adjacent fire—can threaten nearby roofing systems, making a fire resistance system extremely important for protecting a building's roof. Some roofing products, such as wood, require added chemicals to obtain fire resistance, or have been restricted by building code amendments, or city ordinances from use altogether.
Wind resistance
Properly selected asphalt shingles are a highly wind-resistant roofing material when they are installed correctly. Shingles rely on a combination of factory-applied sealant and proper fastening. The sealant helps to hold the shingle tabs in place during wind events. Therefore, it is important to follow the manufacturer's installation instructions to ensure the sealant performs as intended. Shingles must pass the most stringent wind-resistance examinations, including ASTM D3161, Standard Test Method for Wind-resistance of Steep-slope Roofing Products (Fan-induced Method), and ASTM D7158, Standard Test Method for Wind Resistance of Asphalt Shingles (Uplift Force/Uplift Resistance Method), as recommended by the Federal Emergency Management Agency (FEMA).
For a large portion of North America, shingles with a Class D wind classification are appropriate for use in wind zones up to 145 km/h (90 mph). For coastal regions or other high wind zones, there are shingles with a Class G (for use in zones up to 193 km/h [120 mph]) or Class H (up to 241 km/h [150 mph] zones) certification. When consulting an owner, specifier should confirm the wind zone the projects is located in by consulting local code officials.