Environmental stewards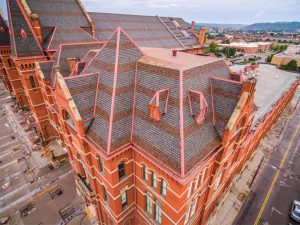 Another role a specifier may be asked to fill is an environmentalist. Especially today, many owners would like to make decisions with the environment in mind. Many want to trust their specifiers to make environmentally wise decisions, too. A specifier can build and reinforce this trust by making energy-efficient roofing decisions or recommendations.
Every year, Americans spend $40 billion to air-condition buildings, consuming a sixth of all the electricity generated in the country. An air-conditioner may not seem like a large energy consumer, but when millions of these devices are on at the same time, it becomes much more taxing. By reducing energy consumption, fewer resources are needed to power air-conditioning units, and therefore the strain placed on the environment and energy bills is reduced. For an asphalt shingle roofing system, there are multiple ways of doing this.
Attic ventilation
A proper attic ventilation system includes a balanced system of intake and exhaust vents for allowing a continuous flow of air through the attic space. As cooler air enters the attic through intake vents, warmer air naturally rises out of the space through an exhaust vent. In combination with correctly installed insulation, this assists with roofing system longevity and energy efficiency by reducing heat buildup. Therefore, less strain is placed on air treatment equipment and energy consumption can be reduced. Note the amount of insulation required will depend on the model energy code in effect for the project's location.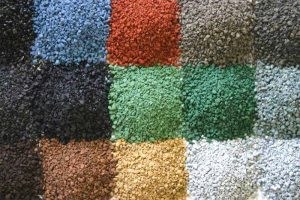 To ensure sufficient ventilation and reduce energy consumption, 0.09 m2 (1 sf) of net free area (open area for passage of air within a vent) is required for every 14 m2 (150 sf) of vented space, according to the International Building Code (IBC). There are several options for both vent types, such as eave or soffit for intake, and ridge vent or power fan for exhaust.
Solar reflection
Asphalt roofing granules not only look pretty, but also can help reduce energy consumption. 'Cool' shingles are made with specially treated granules for reflecting solar energy, helping to reduce the amount of heat absorbed by the roofing system. A multitude of 'cool' shingles are certified by Energy Star and/or the Cool Roof Rating Council (CRRC) and can help reduce temperatures, thereby reducing the amount of heat transferred to the space and making an air-conditioner's job easier.
Recycling
When asphalt shingles' life cycle finally comes to an end, they can be repurposed for other uses, such as paving new roads. In 2017, nearly 861,826 tonnes (950,000 tons) of reclaimed asphalt shingles (RAS) were used in new asphalt pavement mixes in the United States, according to the National Asphalt Pavement Association (NAPA). Not only does using recycled shingles help stem the use of new natural resources, but it also contributed to more than $2.2 billion in savings last year.
Before making any environmental or energy reduction roofing decisions, one should check with an asphalt roofing manufacturer for recommendations and guidance.
Quality shingle roofs
Today's construction industry is active and dynamic. By being well-informed on the technology, aesthetics, and energy savings of asphalt shingles, a popular steep-slope roofing option with residential and commercial applications, professionals are better equipped to showcase their knowledge and expertise.
Mike Fischer is vice-president of codes and regulatory compliance for the Asphalt Roofing Manufacturers Association (ARMA). He is a 35-year building industry veteran, leading strategic client initiatives in legislation, regulatory affairs, and standards and construction codes. Fischer is a frequent speaker at industry events and a regular contributor to trade publications. He can be reached at MFischer@kellencompany.com.