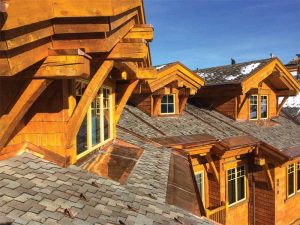 Impact resistance
Some shingles are designed with impact-resistance properties, often as a protective measure against damage from hailstorms. When consulting an owner in areas where hailstorms are known to be frequent, this performance quality may be of consideration. A common misconception is a thicker shingle provides added impact protection. In reality, this is not necessarily the case. An impact-resistant shingle is reinforced with either a scrim backing or styrene butadiene styrene (SBS)-modified asphalt and has passed the test requirements in UL 2218, Standard for Impact Resistance of Prepared Roof Covering Materials. UL 2218 has four different levels of rating, the most rigorous being Class 4.
Test of time and environment
Its time-tested success is why asphalt shingles cover 80 percent of homes in America and 1 billion m2 (12.5 billion sf) of asphalt shingle products are manufactured annually. Over the past 125 years, shingles have proven they can withstand a wide range of exposure and environmental challenges dispatched by time and nature. From extreme sunlight to the iciest of winters, these materials continue to prove themselves as a sturdy, reliable roofing choice.
Asphalt shingles have a core material made of fiberglass and organic or polyester mat. This gives the product the strength to withstand manufacturing, installation, and service conditions. The mat is coated with asphalt, which serves as the medium for adhering mineral surfacing to the roofing. Some manufacturers blend the asphalt with SBS polymers to add rubber-like characteristics. Asphalt shingles are manufactured as laminated shingles (multilayer), strip, and open tooth. Strip shingles are rectangular and may have multiple cutouts along the long dimension. Cutouts separate the shingle's tabs, and when exposed to the weather, they give the roof the appearance of being comprised of a larger number of individual units.
When consulting, it is advisable to check with an asphalt shingle manufacturer before making any key decisions. Important questions to consider may include:
what type of shingles (e.g. architectural, luxury, or 'cool') are being manufactured;
which of the shingles provides Class A fire resistance;
which of the shingles is classified for use in high wind areas; and
what aesthetic blends are recommended for the intended geographic region?
One can also visit asphaltroofing.org for a list of North American asphalt roofing manufacturers that are Asphalt Roofing Manufacturers Association (ARMA) members.
Additionally, while shingles are significant, specifiers should stress the importance of the roofing system. A roof is a whole system, and each element deserves attention during the design process.
Specifier as an artist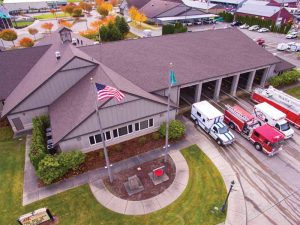 Asphalt shingles are available with hundreds of aesthetic customization options through different colors, designs, shapes, textures, shades, and styles. While physical requirements (wind resistance, geography, etc.) play an important role in determining shingle selection, a specifier can use knowledge of asphalt shingles' aesthetic diversity to act as an exterior design consultant and show an owner variety. For example the Burlington Fire Department building in Washington (the 2017 Quality Asphalt Roofing Case-Study [QARC] Bronze winner) mandated two physical requirements: wind and algae resistance. Asphalt shingles not only met these requirements, but also provided a good blend of oakwood.
Regardless of climate or geography, asphalt shingles provide a variety of stylistic choices fit for any installation. If aesthetic decisions are given to an architect for a project, the specifier can recommend shingles with the necessary performance that also fit the architect's vision. For each design offered, asphalt shingle manufacturers often provide several color scheme options, making it possible to achieve visual perfection without sacrificing a roofing system's performance values.
One reason shingles offer so much diversity is their granules, which are made from igneous rock covered with a clay silicate mixture in a selected color, coated with a highly durable ceramic, and then surface treated. Besides the aesthetic value these asphalt shingle granules provide, they also assist in ultraviolet (UV) protection, shingle durability, and roofing system longevity.
An owner will likely want to explore many colors and styles before making a final choice. An asphalt shingle roofing system can last a long time, so selecting the right aesthetics for each project may take a little research. Steep-slope roofs represent a significant percentage of the exterior appearance for a building. In the author's experience, the curb appeal of an asphalt shingle roofing system can have a dramatic impact on resale value.
Shingles come in three basic styles. Traditional three-tab shingles are typically strip shingles with cutouts along the long dimensions. Popular architectural (also known as laminated) shingles are comprised of multiple layers of base material to give a three-dimensional effect. Comprising laminates, luxury/specialty shingles usually give the appearance of a slate or tile roof. They are heavier and may have a greater exposure than typical varities.