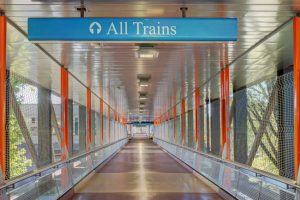 The Metropolitan Atlanta Rapid Transit Authority's (MARTA's) Inman Park/Reynoldstown station, Atlanta, Georgia, serves approximately 3000 people daily. When the neighborhood station originally opened in 1979, its pedestrian bridges and walkways featured metal ceiling systems. After 40 years of continuous use, the station was ready for an update. Based on the ceiling's reliable performance, MARTA once again selected metal ceiling systems as the basis of design for the station's renovation.
MARTA provided architectural direction on the 2323-m2 (25,000-sf) station's $6.9-million rehabilitation, renovation, enhancement, and expansion project. MARTA worked closely with Reeves Young as the general contractor and Acousti Engineering Company as the ceiling installing contractor. The manufacturing company provided additional support, helping MARTA with design fulfillment and Acousti with the custom fabrication and installation logistics.
Lasting performance
After evaluating the Inman Park/Reynoldstown station for structural integrity, the original metallic ceiling suspension systems received approval to remain in place with additional reinforcing.
"Acousti's structural reinforcement and down bracing should allow the ceiling suspension system to outperform almost any imaginable future need. It is very impressive," a representative from the manufacturing company said.
Wind load tests also confirmed the metal ceiling systems meet the frequent pressure peaks caused by the MARTA and CSX trains' arrivals and departures.
Since the metal ceiling system extends across both exterior and interior spaces, it also was tested to meet the project's air and water performance requirements for Atlanta's warm, humid climate.
Metal does not absorb moisture and does not support the growth of mold, mildew, or other potentially harmful microorganisms. The metal ceilings are low maintenance and fully recyclable at the end of their use on the station.
Improved appearance
To improve the station's aging appearance, Acousti removed and recycled the old metal ceiling panels, and installed the new systems: linear metal planks in 102-, 152-, and 203-in. (4-, 6-, and 8-in.) widths; snap-in metal ceiling panels in 457-x-610-, 610-x-610-, and 254-x-254-mm (18-x-24-, 24-x-24-, and 10-x-10-in.) dimensions; and perimeter trim in 102- and 305-mm (12-in.) heights.
"Using two systems, factory-finished in satin silver and winchester gray, perforated and non-perforated panels, and multiple sizes, we were able to combine standard design elements for a high-end look without a high-end cost," the representative said. "The variety of color, sizes, and shapes helps break up the long corridors and offer visual cues to passengers."
Positive impact
The ceiling systems enhance the station's performance, appearance, and sustainability, and the integral fixtures support MARTA's safety and energy efficiency goals.
Minimizing disruption to the passengers at Inman Park/Reynoldstown station, Acousti carefully managed its work while the station remained in use throughout the renovation. Work began in December 2018 and was completed on time and within budget for the April 2019 re-opening celebration at the Inman Park Festival.