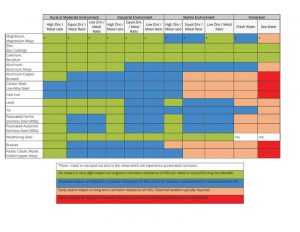 In some cases where Figure 4 indicates low or moderate impact on the long-term corrosion resistance of galvanized steel, the galvanic corrosion may be tolerable on a project by project basis. As an example, the Cliffwalk at Capilano Suspension Bridge Park (Figure 5) in Vancouver, British Columbia, Canada, employs a mixture of HDG steel and stainless steel to achieve a light and airy feel to the observation walkways and staircases and platforms. Together in this environment and with favorable zinc-to-stainless surface area ratios, these metals are capable of ensuring decades of maintenance-free corrosion protection in a rainforest-like climate such as Capilano Canyon with a negligible impact on overall longevity. For other projects, the following list elaborates on common combinations where additional measures may or may not be required to ensure longevity of the HDG coating.
Galvanized steel with aluminum or stainless steel
Generally, the combination of HDG steel with stainless steel or aluminum is considered acceptable in atmospheric environments with mild humidity and air salinity. For marine or other high chloride applications, the HDG coating can experience moderate-to-aggressive corrosion and noticeably impact the performance of the galvanizing unless mitigations are put in place.
Galvanized steel and brass/copper
In mild or moderate atmospheric environments, it is preferred to avoid the use of brass/copper materials such as flashings, roofing, or gutters with galvanized components or fasteners to ensure maximum longevity of the galvanized coating. For marine or immersion applications, a fairly severe impact to the galvanized coating performance may occur if connecting these metals without preventative measures.
Galvanized steel and painted carbon steel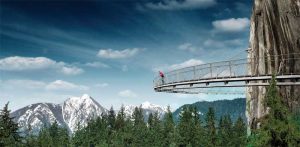 Galvanized steel, may be successfully combined with painted steel assuming that a durable paint coating system is applied and diligently maintained. Proper maintenance of the paint system is required to ensure full barrier protection is achieved between the galvanized coating and the carbon steel beneath the paint barrier. Where necessary, it is preferable to paint both metals in order to minimize exposure of the galvanizing should the painted components experience damage or weathering.
Galvanized steel and weathering steel
When galvanized steel is combined with weathering steel, zinc will initially sacrifice itself until the weathering steel patina, a protective and passive layer of rust, develops and prevents further sacrificial action. Studies on the use of galvanized fasteners with weathering steel guardrail panels indicate batch HDG fasteners have sufficient zinc thickness to last until the weathering steel patina develops (typically one to five years) with only minimal impact in overall performance. As a result, weathering steel may be joined with galvanized fasteners despite a low zinc-to-metal surface area ratio (read "Atmospheric Corrosion Performance of Hot-Dip Galvanized Bolts for Fastening Weathering Steel Guardrail" by H.E. Townsend, et al).
Galvanized steel and other zinc-coated items
Occasionally, material availability or design requirements result in the specification of multiple zinc coatings within a project. Mechanically galvanized fasteners may be used to connect HDG members in high-strength structural connections, or continuous galvanized sheet products may be joined to batch HDG members with a variety of zinc-coated fasteners. Since the batch HDG coating comprises layers containing zinc alloys and pure zinc, there is no fear of galvanic corrosion when galvanized steel is in contact with other zinc coatings. Since zinc coating longevity is directly related to the coating thickness, the components with thinner coatings are likely to experience corrosion of the base steel first.