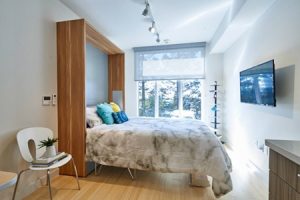 The University of California, Berkeley decided to construct a prefabricated steel structure to accommodate its post graduate students. CIMC Modular Building Systems (MBS) provided the modules.
The accommodations, constructed using containerized modules, officially opened in fall 2018. The four-story structure provides 22 units. Rooms on the first floor have been designed for people with disabilities.
"Berkeley adopts a very stringent green architecture standard by strictly controlling the emission of harmful substances," said Marco Ma, regional project manager of North America at CIMC MBS. "We have fully complied with local requirements and used environmentally friendly materials in the whole construction process."
The company has also raised the earthquake resistance level of the structure as California lies in a seismic zone, with its earthquake fortification intensity reaching E level.
According to the company, all the modules had been transported to the port of Oakland and then transferred to the site by road for assembling. The assembling process was finished within a week.