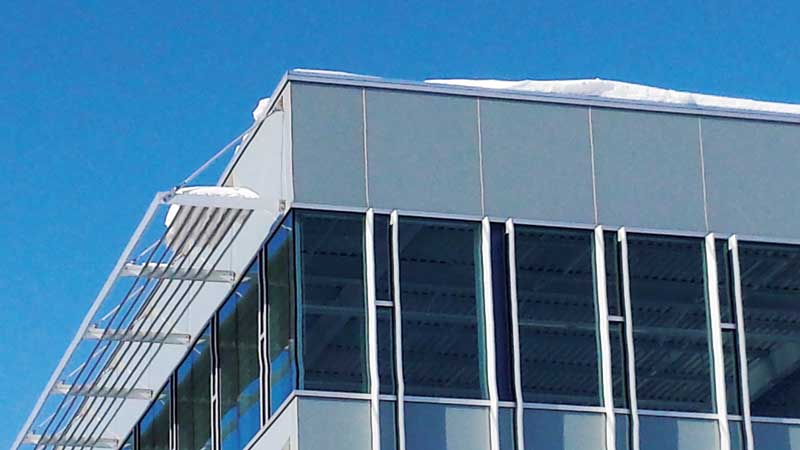 Which problems are unfeasible to mitigate?
One prominent example of something to avoid is a condition directly related to the thermal performance of a building envelope. As the thermal performance of newer roofs and façades improves, and waste energy production from buildings is reduced, the result is a colder exterior skin temperature of the building envelope. In turn, this increases the formation, volume, and longevity of winter precipitation on building surfaces. The result is the formation of release of ice on aspects of a building façade that has not been historically problematic.
This condition is influenced by many interior and exterior design decisions, some of which are more critical than others in terms of their ability to be modified retroactively. Overall, a condition related to thermal variables is often difficult to predict and to correct without detailed evaluation, thus in some instances, an investigation through mockup testing of wall assemblies may be warranted.
Who specifies, designs, and implements ice and snow mitigation?
The most economical and aesthetically pleasing solutions are typically planned and implemented early in design. Thus, empowering the project team through winter design criteria early in design will produce the most effective results. The addition of an experienced ice and snow expert is further an effective means to manage risk.
How is overall project risk managed?
This question returns to the insight expressed at the start of the article that was based on comments from owners and managers of buildings who experienced falling ice/snow incidents: the primary issue is lack of forethought a falling ice and snow incident could occur. Consequently, in addition to the investigation and development of risk reduction strategies during the design phase, further education and instruction specific to the anticipated future winter performance of a completed building should be provided for building ownership, management, and operations by the design team.
Should the potential for slide, fall, or release of hazardous ice and snow be a design consideration for your next project?
Yes!
Michael Carter, CET, is the director of Microclimate Ice & Snow Inc. He has more than 20 years of design assist, consultation, field research, incident investigation, and laboratory mockup testing experience. Carter co-chairs ASTM Task Group E06.55.13 on Evaluation of Snow & Ice Accretion on Buildings & Structures, and his published works include articles and guides for Council on Tall Buildings and Urban Habitat (CTBUH), Snow Engineering V & VII, the Whole Building Design Guide of the National Institute of Building Science (NIBS), and Construction Canada. He can be reached at mcarter@icesnowconsult.com.